Chelsea Transfer Rumors: Buzz on Possible Post Eden Hazard Moves
June 5, 2012

Shaun Botterill/Getty Images
After recently winning the Champions League, Chelsea F.C. (an already fairly respected club) has even more appeal for players on the move. The biggest transfer news right now for the Blues is the signing of midfielder Eden Hazard and the rumored signing of Brazil's famous Hulk.
The Guardian confirmed Hazard's £32 million deal with Chelsea after he arrived in London. No doubt Chelsea's recent success had something to do with Hazard's decision. The Belgian midfielder from Lille had many clubs interested in him including Manchester United and Manchester City.
According to a news release from Chelsea F.C., former club player Joe Cole also played with Hazard at Lille and presumably had a significant amount of influence on Hazard's decision. The 21-year-old is looking forward to more playing time and more opportunities to score and win for the club. Via The Guardian:
"I'm delighted to finally arrive here, it's a wonderful club and I can't wait to get started," Hazard said after his medical.
So who's next?
Givanildo Vieira de Souza, or as he is more popularly called: "Hulk."
According to The Guardian, the dynamic forward has hinted at leaving Portugal and starting fresh with a new club:
"If the time has come to move on, I'll do so with a good feeling. I have enjoyed a great time here. I'm sure that they will understand the motives behind my decision if I leave."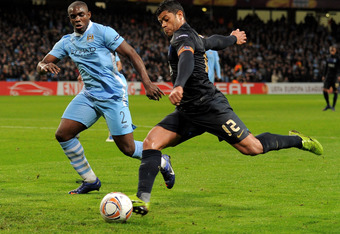 Michael Regan/Getty Images
The Guardian's report continued to confirm that Chelsea owner, Roman Abramovich is ready to close the deal with Hulk. Chelsea has agreed to shell out £38 million for the striker and his impressive record of 57 goals in the last two seasons. Hulk is the kind of player that Chelsea needs to revitalize the team and its fans. His powerful play is remarkable to watch and will likely give the franchise the extra boost Abramovich is looking for.
Pete O'Rourke from Sky Sports reported that the club is also looking to sign Gregory van der Wiel. The right-back has yet to hear officially from the Blues, but he is certainly interested. Leaving Ajax for Chelsea is something the 24-year-old player would find difficult to turn down. Van der Wiel told Sky Sports:
"Yeah of course I would (join), it is a beautiful club...I watch a lot of English football and they won the Champions League and it was a great performance."
If Chelsea can seal the deal with Hulk and Van der Wiel, the club will have a new set of powerful players on the roster. The trio, including newly signed Hazard, could be the turnaround that Chelsea needs to bolster its reputation and play. When it comes to Hazard and Hulk, if it's not their electrifying play, then their names say it all, don't they?
The Premier League should take caution.