2012 AFC North: Ranking the Division's Top 5 Running Backs
June 5, 2012

Justin K. Aller/Getty Images
The AFC North is one of those divisions people look at and say, "now that's some old-fashioned football!" There's never been a shortage of talented running backs from these four teams with names like Jim Brown, Franco Harris and Jamal Lewis banging over opponents. 
But as the NFL has evolved, so has the AFC North and its teams. Both the Steelers and Ravens have opened up their playbooks and have been passing more than ever.
The running backs are still a big part of these teams. So let's see who makes the list of the top five running backs in the AFC North.  
5. Isaac Redman, Pittsburgh Steelers
Isaac Redman saw a whole lot more of the field for the Steelers in 2011 and averaged almost seven carries per game. He appeared in all 16 games and started the team's final regular season game and playoff game while Rashard Mendenhall was out with a knee injury.
Redman set career highs with 110 carries, 479 yards and three touchdowns all while becoming a fan favorite in Pittsburgh.
He'll most likely begin the 2012 season as the Steelers starter while Mendenhall continues to recover and that shouldn't worry Steeler fans. In his two starts last season, Redman totaled 219 yards on just 36 carries and found the endzone once.
Mendenhall averaged only 61 yards per game last season.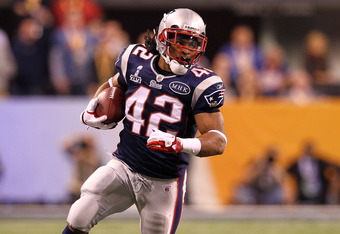 Al Bello/Getty Images
4. BenJarvus Green-Ellis, Cincinnati Bengals
Early in the offseason, the Bengals decided to go in a different direction at running back and signed former Patriot BenJarvus Green-Ellis.
Green-Ellis shared time in a crowded New England backfield in 2011, but still managed 667 yards and 11 touchdowns. He also hasn't fumbled once in his 510 career carries.
Green-Ellis is one of the more underrated backs in my eyes. However, even I have doubts he can carry the load for a team. He was spectacular in 2010, carrying over 200 times for 1008 yards and 13 touchdowns, yet Bill Belichick still spent two high draft picks on running backs Shane Vereen and Stevan Ridley.
It may have been that the Pats coach foresaw Green-Ellis leaving the team in 2012, but that doesn't explain the major reduction in carries. (He averaged three less carries and 20 less yards per game in 2011).
Still, Green-Ellis should be a nice addition to the Bengals roster. He's been a touchdown machine since gaining a feature role in 2010, scoring 24 times over the past two seasons. And, again, he's great at holding on to the ball.  
3. Rashard Mendenhall, Pittsburgh Steelers
Coming off his best season in 2010, there were high expectations for Steelers running back Rashard Mendenhall in 2011.
But those expectations were quickly dissolved and Mendenhall posted a relatively weak 15-game performance.
Justin K. Aller/Getty Images
He ran 228 times for 928 yards and scored 9 touchdowns all before blowing out his knee with just one game to go. Mendenhall also fumbled only one time this year, lowering his total from the previous two seasons.
Look, it's not that I'm not a fan of Rashard Mendenhall. I just can't stand watching the way he runs. He's a strong, stocky 215-pound running back who tries to make cuts like he's Chris Johnson and ends up losing yards because he got caught dancing in the backfield.
The Steelers caught on to this trend early in the season and Mendenhall saw his carries drop by over five per game—he managed only 61 yards per game on the ground. So, even if he wasn't injured for Pittsburgh's regular season finale, he still wouldn't have been on pace to top 1,000 yards on the season. 
To make matters worse, Mendenhall will be heading into a contract year most likely starting the season on the P.U.P list for the knee injury he suffered at the end of last season. He won't be a priority for the Steelers to sign as they'll have to deal with the contracts of guys like Mike Wallace, Antonio Brown and Emmanuel Sanders first.  
2. Trent Richardson, Cleveland Browns
Cleveland's offense was so anemic in 2011, that Madden poster-boy (and one year wonder) Peyton Hillis wore out his welcome with Browns management and found himself on the open market. 
The Browns responded by moving up one spot in the draft to select Alabama's Trent Richardson. 
Richardson was a stud for Nick Saban and the Crimson Tide. He ran for over 1,600 yards and scored 21 times for Alabama in 2011, en route to a National Championship victory over conference rival LSU.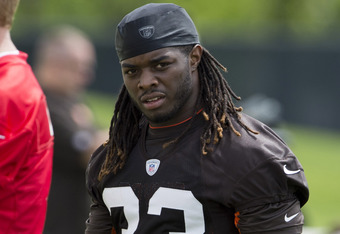 Jason Miller/Getty Images
Last year was the first season he starred in a feature role at Alabama, leading some critics to believe he may not be able to handle an NFL workload. But Richardson never averaged less than five yards per carry in his three years with the Tide. 
It's pretty crazy that he hasn't set foot on the field yet and I have him as the number two running back in the division already. But Trent Richardson is that good. 
He's been dubbed the draft's best back since Adrian Peterson in 2007 and for good reason. He doesn't just punish defenders in the running game, but is a great option in the passing attack as well. 
The biggest problem for Richardson in 2012 will be finding ways to make plays on an offense that doesn't have any other playmakers around him. Cleveland is still pretty far off from winning, but adding Richardson is a great start.  
1. Ray Rice, Baltimore Ravens
There's no question who the best back in the AFC North is and it's by far Ray Rice. 
Rice is a multi-dimensional back who's one of the league's best runners and receivers out of the backfield. He has rushed for at least 1,200 yards in three of his four NFL seasons and caught at least 60 passes three times. 
Rice may have had his best season to date in 2011, rushing for 1,364 yards on 291 carries and scoring 12 times on the ground while hauling in a team-high 76 receptions for 704 yards and another three scores.
The Ravens and Rice are currently in contract talks to try and get something done long-term, and Baltimore absolutely needs to pay this man.
Ask any fantasy owner and they'll tell you, Ray Rice is the guy to have in your backfield. He's helped bring Joe Flacco along nicely by being so capable in the passing game and he has carried the offense on his back.
Rice looks to continue his streak of success in 2012 and lead the Ravens to that ever-elusive Super Bowl title.