Joey Logano Enjoying Nationwide Success, 'No Added Pressure' in Contract Year
June 5, 2012

Patrick McDermott/Getty Images
On the heels of two top 10s in his last three NASCAR Sprint Cup Series races and three wins in the last four NASCAR Nationwide Series events, things seem to be going Joey Logano's way right now.
Driver No. 20 has enjoyed quite a bit of success in recent weeks despite being paired with a new crew chief in this, a contract year, for the 22-year-old Middletown, Conn., native.
Logano opened up about his recent success (among other things) in Tuesday's NASCAR teleconference.
"We are definitely making a lot of gains," Logano said of his recent Sprint Cup success. "Darlington for us was a really good race. We felt like we could have finished even better than where we finished there, so we were excited about that."        
Despite his struggles at the Coca-Cola 600 in Charlotte, Logano hinted that the season's longest race was more of a learning experience for him and crew chief Jason Ratcliff, and that the two were able to quickly diagnose what went wrong.
They then applied that knowledge to Sunday's race at Dover. 
"We were able to [work on the car] good at Dover, which is always a great racetrack for me, and we were able to capitalize on that with an eighth-place finish, which is another place that I thought, you know, we had a top five there at the end of the race," Logano said.

Logano also attributed some of his recent Sprint Cup success to the Nationwide Series, where he's won three times in the last four races.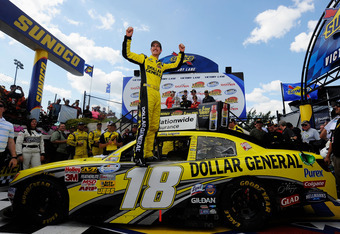 Patrick McDermott/Getty Images
"For one, it's confidence," Logano said of the benefits of running NASCAR's second-tier division. "It gives yourself as a driver a lot of confidence, which goes through the whole team."
But for Logano, the benefits of running two races each weekend run deeper than that.
"[I] think you're able to learn from things," Logano continued. "You know, when you're on the same tire, cars are pretty similar, especially on a smaller racetrack, the cars are more similar. So you can kind of learn some things throughout the day that you can carry over into your Cup program."
Still, Logano admits there are quite a few differences between the two series.
"I think there's a lot of difference between Nationwide and Cup. Obviously the cars themselves are different," Logano elaborated. "They are more similar now than they were before, but they are pretty similar now. But still a lot less horsepower in the Nationwide car, races are a lot shorter and your field is not as strong as a Sprint Cup car."
Among the major difference between the Sprint Cup and Nationwide cars? Raw speed.
"They are different cars, but they are somewhat the same type," Logano continued. "I think the smaller the racetrack, the more similar the cars are. The more speed they have; the Nationwide cars just kind of die out down the straightaway. You only have so much horse power and only go so fast into turns."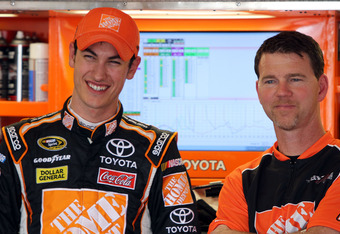 Jerry Markland/Getty Images
As far as working with Ratcliff, his new crew chief on the Sprint Cup side, Logano says it's taken a little time to get used to, especially since Ratcliff's success has always come in NASCAR's second-tier series.
"There is a learning curve there," Logano admitted. "There's a learning curve between the two of us getting to know each other and Jason getting over here and working with Sprint Cup cars and Sprint Cup races and longer races, all that stuff. There's a lot of difference between all of that. There's two learning curves there that you have to go through to become the best."
But despite those learning curves, Logano and Ratcliff have made big strides in the last three races, as evidenced by the top 10 finishes at Darlington and more recently at Dover.
"We are steadily moving through those and getting better every week," Logano said. "That's why I said earlier, you have to be able to learn from each mistake you make and really diagnose what happened to make sure you don't do that again. I feel like we did a good job of that at Charlotte and we were able to work that into at Dover."
Despite the gains in recent weeks, at 16th in the standings, Logano still has a tough road to hull to make the Sprint Cup Chase in the last year of his contract with Joe Gibbs Racing.
So, is he feeling the pressure?
"It's pressure all the time, so whether it's a contract year or not, you're always out there to do the same thing. So for me, I'm out there to win every race and that doesn't change from what it was this year or three years ago.
"So there's no added pressure to that."
Still, Logano admits that being in a contract year does give him something extra to think about.
"Is there something extra in your mind? Yeah, there's something extra on your mind that you have to figure out before the season is over," he said.

In spite of that extra thing on his mind, however, Logano knows what he has to get done here in 2012.
"At the same time, you go out there and focus on your job. My job is to go out there to win races, so as long as I do that, all of that will come together pretty easily," he explained.

For Logano to ensure that it "all comes together," it's all about perspective.
"I just have to keep focusing on what's most important, and that's this year right now and all of the stuff will kind of follow when it needs to." 
All quotes were obtained from the NASCAR teleconference unless otherwise noted.