Chicago White Sox: Is Dayan Viciedo a Superstar in the Making?
June 6, 2012

Jonathan Daniel/Getty Images
Chicago White Sox outfielder Dayan Viciedo's bat kicked into overdrive just as the South Siders went on a run to the top of the AL Central. On the other hand, you could also say that it's the other way around.
Perhaps it's been the 23-year-old Cuban who provided a jolt at the dish for the White Sox.
Chicago has received offensive production throughout the lineup during its current hot streak. However, it's hard to ignore Viciedo's bat and how it has appeared to wake up after a slow start.
As recently as a month ago, both Viciedo and the White Sox were scuffling. Following action on May 13, Chicago had dropped two of three to the Royals at U.S. Cellular Field. Viciedo was batting .196 with just a hint of the power displayed in Charlotte the last two seasons.
Then came a big night against the Tigers May 14. Down 5-2 heading into the bottom of the fifth, Viciedo smashed a two-run homer to left to get the White Sox back in the game, then gave his team the lead with a two-RBI single in the sixth. Chicago beat the Tigers that night 7-5.
Since May 14, the White Sox have gone 15-5 and taken over first place from Cleveland. Viciedo has also put up some impressive numbers in his last 20 games.
Since his heroics against Detroit, Viciedo is hitting at a .367 tear. He has nine of his 12 homers in that span and 24 of his 29 RBI. His slugging percentage is .734 and his OPS is 1.124.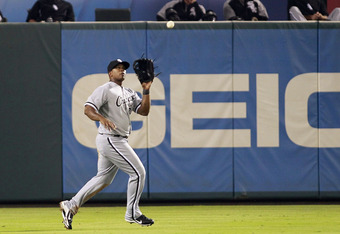 Rick Yeatts/Getty Images
It isn't a total surprise that Viciedo has put together his recent streak. He possesses a live bat and is prone to hit patches like he has the last three weeks.
The book on Viciedo tells you that he is a slow starter that heats up with the temperature. One thing that may surprise you is that Viciedo has yet to commit an error in left in 46 games this season.
For a player who has bounced around the corners of both the infield and the outfield, that's a definite bonus. If Viciedo can keep making the routine plays out there, his arm and powerful bat become even greater assets.
Viciedo, who was signed as a free agent out of Cuba four years ago, is a candidate to anchor the middle of the lineup someday. He has been used in the cleanup spot several times this season and replaced Paul Konerko there when the captain was scratched from the lineup Tuesday night.
Viciedo was 0-for-4 in Chicago's 9-5 loss to Toronto, making him 1-for-16 so far in June. Hey, it's going to happen. Viciedo is not one to get cheated out of swings. With a season average of .271, he has run hot and cold so far in 2012.
Viciedo may not be able to maintain this lofty recent pace all the way through his first full season. However, with the growing pains comes the potential of what could be an elite hitter in the major leagues. It should be interesting for us to follow his peaks and valleys this summer.