CM Punk and Daniel Bryan: Why Kane Fits Perfectly in Their WWE Championship Feud
June 6, 2012

In the last week, I've been hard pressed to find any love for Kane's involvement in the WWE Championship feud.
Sure, we'd all love to see CM Punk and Daniel Bryan tear the house down every pay-per-view, one on one. However, the short attention span of fans could only keep them interested for so long. Realistically, how long could they keep that going before moving onto another feud. Two months? 
This is why Kane's involvement is so pivotal. Kane is the third wheel in the feud between Punk and Bryan. Initially, his presence allowed Punk and Bryan to one-up each other. He was essentially a tool used to further the main feud. In the process, side feuds started among Kane, Punk and Bryan. 
It's a throwback to the past, when the wrestlers in the main event feuds would often have smaller feuds on the side. Remember The Rock's series of interactions with The Hurricane while he feuded with Stone Cold Steve Austin?
Most recently, we witnessed a strange interaction between AJ and Kane on Raw. Kane has effectively become part of the main feud, and now is part of the WWE championship match at No Way Out. 
Most importantly for the IWC, Kane allows the feud to be extended. He's a fresh face in the feud that keeps the casual fan interested. Kane's involvement will help move the story in the right direction. 
When he presumably leaves the feud, the story will be better for it. AJ is the nucleus of the feud, and Kane is contributing to that by making it more interesting and unpredictable. Does anyone know where they are going with that Kane/AJ interaction?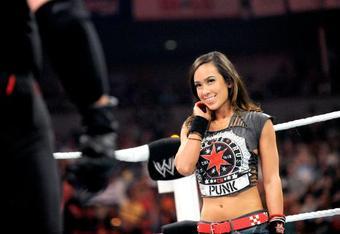 Further, Kane has been working great matches recently with both Punk and Bryan. Kane's a solid worker, and he is elevated by the talent he's in the ring with. I am sure that Kane being in the feud won't be to the detriment of the match quality, especially when it comes to the triple threat at No Way Out.
CM Punk and Daniel Bryan are the two main players in this big feud, but Kane's involvement will tell the story of how they react to having a monster wrestler in their way. I think Kane could help create an interesting dynamic between Punk and Bryan, whether they target each other or temporarily combine to fight Kane. Add AJ at ringside and the match is sure to be highly entertaining. 
Don't get me wrong. I would gladly watch Punk and Bryan wrestle every night. Hell, I'd mark out for an iron man match, but there is only so much we can get. If anyone was to be added, Kane was a perfect choice.
Follow me on twitter. You'll barely regret it - @JPN151. Oh, and become a fan.