New York Rangers: How Blueshirts Could Spend Up to $20 Million This Offseason
June 7, 2012

Bruce Bennett/Getty Images
According to a New York Post article written by Larry Brooks:
"The Blueshirts will have approximately $20 million of space under a summer cap that's likely to be in the neighborhood of $76M, but it's impossible to know whether the 2012-13 cap will exceed, be equal to, or decrease from last season's $64.3M when it's reset under the new collective bargaining agreement."
That being said, there are a number of New York Rangers who have become unrestricted free agents at the end of this season, as well as a few that we can expect to be out of the picture come the start of the 2012-2013 season.
Brandon Dubinsky (although not an UFA until the 2015-2016 season) will no doubt no longer wear red, white and blue for New York, and along with him will go his $4.2 million salary, which he definitely didn't prove he deserved.
In a Blueshirts United interview, Ruslan Fedotenko didn't seem that certain that he would want to return for the following season with the Rangers.  While he commented that it was a great organization to work with and for, when asked about his status as an UFA he said:
"I just need to sit back and see in what the direction the team goes and what direction I am looking to go and then go from there."
Fedotenko's salary was $1.4 million for the 2011-2012 season.
A few other Rangers who are unrestricted free agents are Martin Biron, Brandon Prust, John Mitchell, Steve Eminger, Jeff Woywitka and John Scott.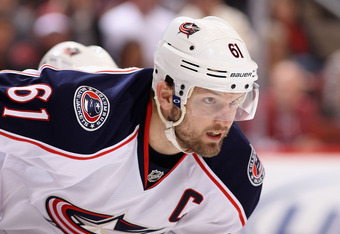 Christian Petersen/Getty Images
Of those players, I believe it is safe to say that Woywitka and Scott will definitely be saying "sayonara," just as it is probable the Rangers will re-sign Prust and Biron (provided the price was right).
One way in which the Rangers could dip into their supposed $20 million would be to sign Columbus Blue Jackets superstar Rick Nash (which has been talked about since the trade deadline back in February).
His salary this season was $7.5 million for 2011-2012 season and increases to $7.6 million for 2012-2013 season, so that is a good chunk of the $20 million right there.
Nash would add that extra offensive push that the Rangers so desperately need. Although they signed Marian Gaborik and Brad Richards to take care of that department, they were a major disappointment in the postseason.
Also, according to the same Brooks article mentioned earlier, the Rangers are on the lookout for a defenseman:
"Given the uncertainty regarding the status of Michael Sauer, the top-four defenseman who did not play after suffering a concussion on Dec. 5, the Blueshirts will seek a defenseman to play the right side with Marc Staal."
A good defenseman will come at a pretty price, however, so the Rangers will surely need to be smart and savvy about such a move.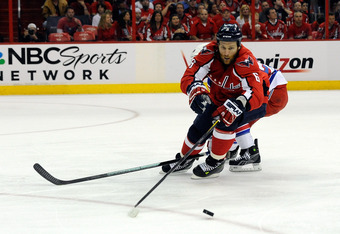 Patrick McDermott/Getty Images
Also, personality is a key factor with the current Rangers team, so they will need to consider who they are bringing into the locker room and how that will affect the overall team dynamic.
Some options in that department that the Blueshirts may be interested in could be the following players: Matt Carle of the Philadelphia Flyers, Ryan Suter of the Nashville Predators, Pavel Kubina of the Philadelphia Flyers (who may not want to move again after his trade to the Flyers in March) and Dennis Wideman of the Washington Capitals (all currently in the $3-$4 million salary range).
With any of those choices, however, the Rangers may need to shed some weight salary-wise to get both a leading scorer and a strong defenseman.
It will be interesting to see what Glen Sather devises as a plan of attack for this offseason.