MLB Draft 2012: Why Tony Renda Will Be a Breakout Star at the Next Level
June 7, 2012

I have had the pleasure of watching Tony Renda play, not just during his tenure at California but while he played in high school as well. He may not have the imposing the 6'5" 220 lb frame, or the clout of a 96 mph fastball as some of the other players in this year's draft.
But no one has the heart, the work ethic, or professionalism that this kid brings to the table. There is no doubt in my mind that Renda will be an every-day second baseman, in Washington or somewhere else, and put together a very long and solid career in the big leagues.
Read any draft prospect scouting report and the brief write-up will undoubtedly draw the expected comparisons to former MVP Dustin Pedroia. While they match in size and position, their personalities are totally different. Pedroia is known to be loud and fiery.
As Jockbio.com describes him "a small man with a big personality—and an equally big swing—Dustin can be hard to take, especially if you're rooting against him." Renda seems to emulate Buster Posey more, a strong silent leader, mature for his age and, of course, a great swing.
Like Posey, Renda is short to contact with a strong up the middle approach. He has quick hands, a great inside out swing and the ability to spray to all gaps.
As his numbers will show Renda can hit for average but packs a surprising amount of power, especially to his pull side. This season he batted an impressive .342 with 16 2B, five HR and 27 RBI. Both his slugging percentage and on-base percentage were well above .400, and just this week he surpassed Xavier Nady for sixth all-time on Cal's hit list with 244 (the only third year player).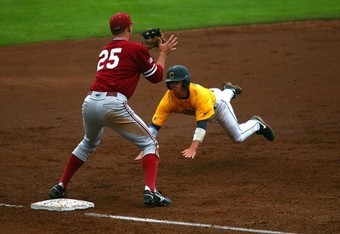 He has decent speed but is an instinctual runner who can stretch singles into doubles and swiped 38 bags over his career.  
With the glove, he gets it done too. Renda sports a .947 fielding average and has a strong arm. He is penciled in at 2B but has the range for short and the arm for third. If he can't find a starting role at second, Renda can easily take the utility player route. However, I think his bat will earn him a spot in any lineup.
But what the scouting reports or stat sheets won't offer is Renda's tenacity. He is a pit-bull of a competitor, strong-willed and will stop at nothing when it comes to helping his team. Last year when the Golden Bears, on the brink of losing their baseball program to budget cuts,
Renda as a sophomore took form as team leader, winning Pac-10 player of the year and making a miraculous run in the College World Series. He did all of this despite a nagging hamstring injury and the recent loss of his father.
And if you were to ask him what the key to his success was, he would modestly attribute it to his teammates. In an interview with the New York Times he said, "You've got 30 brothers on the team who are right there by your side...It was kind of the first sign this year that, through all things, we were going to stick together and be there for each other."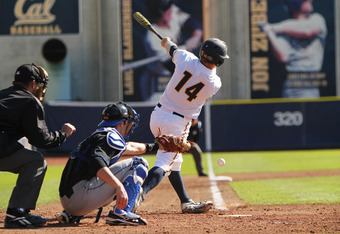 What most striking about Renda, more so than his stats, accolades or records, is the way he conducts himself. He is a very mature young man, humble and has respect for the game. He is always hustling, whether it is up the line or back to the dugout after a strike out.
In the seven years I have watched him play, not once have I ever seen him argue a call or show up an umpire. MLB.com draft expert Jonathan Mayo said, "His makeup might be what makes him stand out the most, the kind of player a team loves to have."
Earlier this week he went in the second round to the Washington Nationals (80th pick overall), which favors Renda's chances to making it. They are an organization that is on the up and favors young talent. They wasted no time in calling up Strasburg or Harper.
Granted Renda doesn't have the repute these two prospects carried with them as first overall picks, but if he puts together an impressive campaign in the minors he could jump to the top of their prospects list and be playing in Nationals Ballpark within two years.
Washington at second base has some solid but not stand out prospects, and a very average starter in Danny Espinosa. Mayo writes, "Renda might not be Kolten Wong, but it's hard to ignore the success he's had at Cal."
It is a long road to the majors and many don't make it. However, I think Renda with a good head on his shoulders and impeccable perseverance will be well on his way. Many top prospects find themselves shell-shocked when they don't immediately succeed. This won't be the case for Renda.
In the 18th inning  at Sunken Diamond against the Super Regionals destined Stanford, Renda himself at the wrong end of a seven-at-bat night, with no hits. When most hitters would want to curl up and hide in the bat rack, Renda dug deep and hit a game-winning RBI single to center. He didn't give up then and he won't give up ever.
All of these aspects lead me to believe that Tony Renda has what it takes to be the stand out in this year's amateur draft.