AFL Short Cuts: Kenny McEntyre Returns to Orlando Predators
June 7, 2012

Jim McIsaac/Getty Images
Edit: After this article was published, the AFL used its flex system to change the NFL Network game from Pittsburgh at Cleveland to Philadelphia at Milwaukee. Changes have been made accordingly.
For your Arena Football League fix, here is a short roundup of what's going on in the league.
Kenny McEntyre Returns
The 41-year-old McEntyre has played in the Arena Football League for now 14 seasons. All but one of those was spent with the Orlando Predators.
A product of Kansas State, McEntyre has been named Defensive Player of the Year three times in his career. He holds more of those awards than anyone in league history.
Last season, "The Glove" made 61 tackles, the fourth most of his career. He only had five interceptions and eight pass breakups, however, which are some of his lowest outputs.
McEntyre will suit up once again after signing with the Predators this week.
Hello, Goodbye
Say hello to Jeron Harvey, Jacksonville. The Sharks' main target has been on the injured list as of late but will return this week. So far this season, Harvey has put up good numbers, with 48 receptions for 450 yards and 11 touchdowns.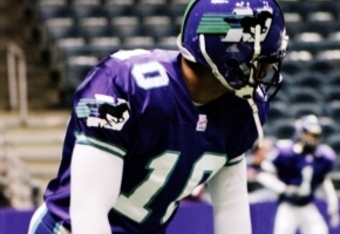 Say goodbye to Nate Forse, Milwaukee. A staple to your fans, especially those who migrated from Green Bay. He's caught 49 passes for 492 yards and five scores for the Mustangs but was traded to the Preds. He is on refused to report, however, in Orlando.
Developmental League?
AFL Commissioner Jerry Kurz said he plans to have a developmental league for the AFL next year. How he plans to do this with the indoor football market so watered-down already, who knows?
The league, however, could potentially buy out owners of a current league and take over, I presume. Doubtful the AFL wants to do that, though.
Throwback to the '90s
The Milwaukee Mustangs will be paying homage to their previous franchise when they don purple and teal for this week's game against the Philadelphia Soul.
The team had the uniforms made from replica jerseys hanging in the team offices. That means those fans who bought replica Mustangs jerseys in the '90s now have authentic ones. Nobody could find a real jersey and make the new ones identical? Shameful.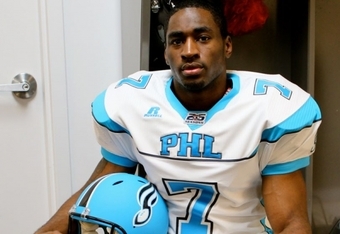 Nonetheless, the idea is a cool one, I would love to see other teams do this. Hint: Tampa Bay in the zubaz. Orlando, put claw marks back in your numbers.
NFL Network
Due to the throwback uniforms and the records, Philadelphia at Milwaukee will be broadcast on NFL Network.
The originally scheduled Pittsburgh at Cleveland game was flexed off the schedule.
Philadelphia leads the Eastern Division, while Milwaukee is trying to improve their 4-7 record to clinch a wild card spot. This division tilt could have implications on the playoffs, especially with a Milwaukee win.
The game airs Friday at 8 p.m. ET.
Playoff Picture
Only 13 weeks into the season, it can be difficult to put a playoff picture together—especially when the season is 20 weeks long.
Currently, though, Philadelphia looks to have control of the National Conference with a 9-3 record. They lead the Glads (6-5) by 3.5 games in the Eastern Division.
The Southern Division is the one to watch. Jacksonville (6-5) leads Georgia (6-6) and Tampa Bay (6-6) each by just half a game, while New Orleans (5-6) is only one game out. Division winners and two Wild Cards make the playoffs.
In the American Conference, there will be some worthy teams left out for sure.
Currently, San Antonio (8-3) leads the Central Division, while Arizona (9-3) leads the Western Division. Every team in the Western Division owns a winning record, though.
San Jose (8-4) and Chicago (7-4) would be in the playoffs if the season ended today. Utah (7-5) and Spokane (6-5) are still within striking distance, however.