2012 French Open: Does Sara Errani Have a Chance Against Maria Sharapova?
June 7, 2012

Mike Hewitt/Getty Images
As the women's draw of the 2012 French Open unfolded, many unexpected events transpired. Both Williams sisters were defeated very early (Serena in the first round, Venus in the second), the No. 1 seed, Victoria Azarenka, was dispatched and the defending champion, Li Na, was also beaten much earlier than expected.
A lot of upsets, to say the least.
Perhaps the most surprising of all is 21st ranked Sara Errani having fought her way to her first ever Grand Slam final by beating some stout competition, including most recently 6th seeded Samantha Stosur in the semi-finals.
On the other side of the draw, things didn't deviate much from what was expected. The semifinal pitted 2nd seeded Maria Sharapova against 4th seed Petra Kvitova. Sharapova was able to dispatch Kvitova in straight sets 6-3, 6-3.
This matchup wasn't much of a surprise, but the outcome wasn't as close as many thought it would be.
In short, the two combatants in the women's final at the 2012 French Open got to this point in very different ways.
While Errani was scratching and clawing her way to the final with inspired, gut-checking play, Sharapova virtually blew through the competition with only one minor exception—her fourth round match against Klara Zakopalova who took Sharapova to three sets.
This begs the question: Does Errani even have a chance against the new No. 1 ranked player in the world in Sharapova?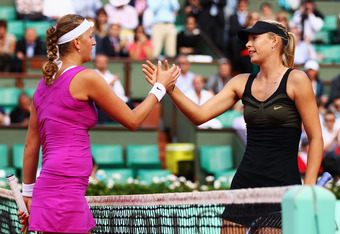 Clive Brunskill/Getty Images
Based on the way each have played and the experience in big-time situations Sharapova has over Errani, the easy answer would be no.
Not so fast!
Did the New York Giants "have a chance" against the previously undefeated 18-0 New England Patriots in Super Bowl XLII in 2007? Did the Florida Marlins "have a chance" against the Juggernaut New York Yankees in the 1997 World Series?
Most "experts" said no in both of these instances, but—"that's why they play the games!"
Of course the Italian has a chance against the steam-rolling Russian. A "puncher's chance" at the very least.
Errani's chances in this match will likely boil down to just one aspect of the game—the service game.
Can Errani get her first serve in more consistently, and can she return the powerful serve of Sharapova?
When asked what Sharapova would do with Errani's second serve following Sharapova's semi-final dismantling of Kvitova, ESPN commentator Patrick McEnroe said, "Batting practice."
This would suggest that Mr. McEnroe feels it will be imperative for Errani to have a good first serve all match long if she wants to be called a Grand Slam Champion.
In an interview with Greg Bishop of the N.Y. Times, McEnroe spoke of the difference in Sharapova's game since returning from injury:
She wants it. That counts for a lot. It's a great story how she had shoulder surgery and how she rebuilt her whole game and she's hitting the ball as well as ever now. I certainly didn't expect her to get back to No. 1. She willed herself back into that position.
It's clear that Sharapova will enter the final as the overwhelming favorite, but this is nothing new for Errani. She has always been considered the under-dog—until now, perhaps.
The 25-year-old from Bologna, Italy has always had a modicum of humility and a distinct lack of arrogance found in most world-class athletes.
In an interview with Greg Garber of ESPN, Errani had this to say regarding cracking the top 10 in the WTA world rankings:
I didn't expect [this], I don't feel like top 10, but now I will be, so it's a strange sensation, because I have to just after this tournament just relax and think. Maybe my problem always was that I couldn't believe too much to win with the strong players. Now I beat three in a row. I'm in the final in a Grand Slam. So I have to maybe try to think a bit different.
While it's refreshing to hear such a comment from a professional athlete, Errani needs to put aside that humility and begin to see herself as the world now sees her—as a Grand Slam finalist.
Being humble is great in the press conferences, but it won't serve her well on the clay of Roland Garros. She must be confident, strong-willed and believe that she can defeat Sharapova if she's to have any chance.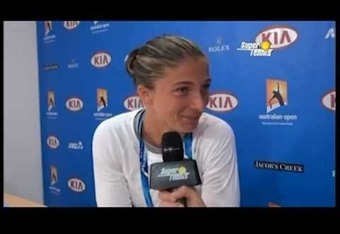 Auto racing has an old adage, "drive it like you stole it." Errani needs to adopt a tennis version of this saying, "hit it like it stole your lunch!"
Sharapova's confidence is at an all-time high and her game is better than ever as she looks to complete a career Grand Slam. For Errani to prevent that, not only must she serve well, but she needs to play like a person that believes she can win.
This could make all the difference in the world for the first-time Grand Slam finalist.
Twitter: @CoachJayDee
Find more of John Doublin's work on Raider Nation Times