The UFC Lightweight Division: Shades of Hagler, Hearns, Leonard and Duran
June 7, 2012

When many people think of boxing, they think of the golden era of the welterweight division, and four names are quickly and fondly recalled: Marvin Hagler, Tommy Hearns, "Sugar" Ray Leonard and Roberto Duran.
In the '80s it was a great time to be a boxing fan because huge fights were always lurking around the corner, and when they came to pass, they lived up to the hype.
The same can be said for the lightweight division in the UFC.
Thus far, we have enjoyed some incredible fights to cap off this "new" era, ushered in when Frankie Edgar dethroned the great BJ Penn.
Edgar had two fantastic wars with Gray Maynard, Nate Diaz had a damn good scrap with Donald Cerrone, Edgar lost his title in another great fight against Benson Henderson—and that's really just the beginning.
Consider the names in the division; all men who could fight for the title and take the belt: Edgar, Anthony Pettis, Maynard, Diaz, Cerrone and current champion Henderson.
Then, further imagine how the division would be impacted if Penn returned, which is, in all honestly, the division that suits him best. And of course, it might just be a matter of time before Gilbert Melendez is in the UFC, fighting to prove his claim at being the best lightweight in the world.  
Thinking about all the possible matchups—each one with clear divisional ramifications—makes the mouth water.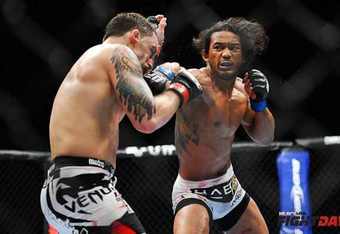 We have the rematch between Edgar and Henderson for the title, and then we have Diaz waiting in line for the winner.
After, we have Pettis as a clear threat and probably next in rotation for title contention. If Henderson still holds the belt, we will get to see a rematch of these two men. Who can forget their last fight that saw Pettis land perhaps the greatest head kick in MMA history?
And all of these men have the skills and the styles to defeat almost anyone else on any given night.
Unlike other divisions where the top of the class is so far over the top of the rest of the division that there is only three or four names of note, the lightweight division is brimming with true contenders.
When looking at the top 10 at lightweight, speculating as to who's the best is many times like splitting hairs.
And the bigger the sport grows, the more new talent emerges.
The lighter weight classes have always been exciting, but now almost anyone in the top 10 can take the title.
By the end of 2013, we may see many champions crowned and dethroned, but for sure, the best interests of the title will be served.
And so will the fans.