Stanley Cup Final 2012: Richards, Carter, Ex-Flyers Impacting Kings' Playoff Run
June 8, 2012

Maxx Wolfson/Getty Images
Fans of the Philadelphia Flyers had the luxury of watching Mike Richards, Jeff Carter, Simon Gagne and Justin Williams start their NHL careers in orange and black.
The four forwards are suiting up together in search of the Stanley Cup, but this time they're wearing black and white.
A loss in the 2010 Stanley Cup finals to the Chicago Blackhawks set off a series of personnel changes that would lead to Richards, Carter and Gagne becoming members of Los Angeles Kings.
On July 19, 2010, Gagne was traded to the Tampa Bay Lightning. He would spend a season there before becoming a free agent and signing a two-year deal with the Los Angeles Kings in July 2011.
On June 23, 2011, the Flyers made two trades that sent captain Mike Richards and Jeff Carter out of town.
Richards was sent to the Kings in exchange for Wayne Simmonds, Brayden Schenn and a second round draft pick.
Carter went to Columbus in exchange for Jakub Voracek and a pair of draft picks. However, Carter's days in Columbus came to an end this past February, when he was traded to Los Angeles for Jack Johnson.
Along with the four forwards, former Flyers' head coach John Stevens is also a part of the Kings' organization as an assistant coach.
While their roles have certainly varied, the former Flyers have been important to the Kings' Stanley Cup run.
Mike Richards
Mike Richards is a proven leader and winner. He has won an OHL championship and a Memorial Cup, as captain of the Kitchener Rangers. Both he and Carter averaged over a point per game to help the Philadelphia Phantoms win the 2005 Calder Cup. Richards has won two gold medals with Team Canada, as a member of the 2005 World Junior team and the 2010 Olympic squad.
Richards brings a tough, physical two-way style of play to Los Angeles. Richards has 35 hits and 14 blocked shots in 18 playoff games. He's averaging almost 20 minutes of ice time per game and has contributed offensively with four goals and nine assists for 13 points.
However, it's possible Richards' greatest contributions may not be those found on a stats sheet. Richards' leadership, his ability to motivate others and his passion for the game have been evident throughout his hockey career.
Jeff Carter
Carter's best season came in 2008-09 when he scored 46 goals and 28 assists for 84 points. Carter is more than capable of topping those numbers, but unfortunately he's had to deal with injuries to his foot and knee over the last few seasons.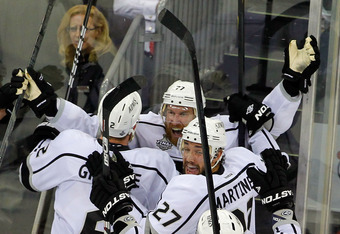 Paul Bereswill/Getty Images
Carter struggled at times during the first two rounds of the playoffs, but has since stepped up his game. Carter had a hat trick in Game 2 versus the Coyotes and scored a beautiful overtime winner in Game 2 of the finals, giving the Kings a commanding 2-0 series lead.
Carter has registered six goals and five assists for 11 points in 18 playoff games. Carter has helped a struggling Kings' power play, scoring three goals on the man advantage. While he doesn't take a huge number of draws, Carter has been effective in the faceoff circle, winning 52.7 percent of his faceoffs.
Simon Gagne
As a seven-time 20 goal scorer and a two-time 40 goal scorer, Gagne was a consistent producer for the Philadelphia Flyers. If it weren't for a number of concussions, Gagne's stats would be even better. His most recent setback came earlier this season. Gagne had been out since December 26 before returning to the Kings' lineup for Game 3 of the Stanley Cup finals.
Although Gagne hasn't been a major factor in his first two games back, his lengthy absence did give some young players the opportunity to shine. Dwight King, Trevor Lewis and Jordan Nolan have all contributed to the Kings' run.
Justin Williams
After being traded by the Flyers to the Carolina Hurricanes in 2004, Williams won a Stanley Cup in 2006 as his Hurricanes defeated the Edmonton Oilers in seven games. That experience is a great addition to a young team that had limited success prior to this playoff run.
Williams has been a consistent force on the Kings' first line, along with Anze Kopitar and captain Dustin Brown. Williams is tied with Drew Doughty for third on the team in playoff scoring, with three goals and 11 assists for 14 points.