Pacquiao vs. Bradley Predictions: Pac-Man Will Regain Focus To KO Bradley Early
June 8, 2012

David Becker/Getty Images
It has been a while since Manny Pacquiao has been his dominant self, but Timothy Bradley might be the person to finally get the best out of the Welterweight champ.
The last time fans saw Pacquiao, he was defeating Juan Manuel Marquez in November. However, it was in a less dominating fashion than people have become accustomed to seeing from the superstar.
After almost 20 years and over 50 wins, Pac-Man seems distracted, fatigued and even washed up.
On the other hand, Bradley comes into the fight with an undefeated record and a desire to make a name for himself by beating one of the most famous boxers in the world.
At first glace, this seems like an easy contest for Bradley. That is, until Pacquiao reminds the world that he is not going anywhere.
According to trainer Freddie Roach in an article by the Los Angeles Times, Pacquiao did not perform to his abilities in the last fight because he was distracted. He was apparently served with divorce papers on the night before the bout. In addition, the boxer was gambling, going to cockfights and playing lots of basketball.
Roach goes on to explain that the fighter no longer participates in any of these extraneous activities.
His opponent, however, does not believe these distractions are gone. In an interview with BET, Bradley says that Pacquiao is "not as hungry" and "his mind is somewhere else."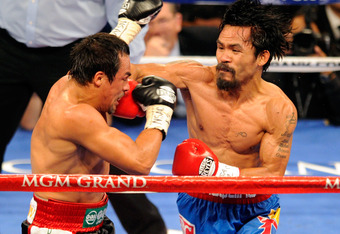 Ethan Miller/Getty Images
If Bradley is correct, the prospect of facing a young, undefeated challenger should be enough for the favorite to regain focus. Manny might have his money and fame, but he still has enough pride to not go down against an opponent he should beat, especially one as cocky as Desert Storm.
Even though he left with a win, Pacquiao's last fight was an embarrassing point in the career of the superstar. That alone should force the champ to look within himself to work hard to become the fighter he once was.
Bradley is undefeated, but has not beaten too many quality opponents. He is also rarely able to finish fighters off with a knockout, something he would have to do to pull the upset this weekend.
With a healthy mindset, Bradley will simply be overwhelmed by the speed and talent of the veteran and the fight will be over early.