Chicago White Sox: Jordan Danks Deserved His Call-Up Despite Fukudome's Injury
June 8, 2012

Christian Petersen/Getty Images
Jordan Danks made his major league debut with the Chicago White Sox in the briefest of appearances. As a pinch runner for Paul Konerko in Chicago's 4-3 win over Toronto, the brother of rehabbing starting pitcher John Danks didn't get a chance to show much to the 25,000-plus at U.S. Cellular Field.
Danks was doubled off of first to end the eighth inning, though there wasn't much he could do about it. Danks can expect longer assignments than his cameo Thursday. However, he'll have to make the most of limited playing time.
Danks was called up Thursday to take the place of Kosuke Fukudome, who was placed on the disabled list with a strained oblique muscle. He is getting his shot in the big leagues due to an injury. Make no mistake, however. Danks' play in Triple-A Charlotte merited that he get this promotion.
Now in his fifth year in the White Sox organization after being drafted out of the University of Texas, Danks has long been touted as the club's best defensive outfield prospect. What has held the 25-year-old Danks is his inability to make steady contact above Single-A ball.
Danks hit .243 in Charlotte in 2010. He showed some pop in his bat last season, but managed just a .257 average. In 57 games with the Knights in 2012, he has produced more consistent results at the plate.
Before his recall, Danks was hitting for a .302 average. His on-base percentage was .419. He had belted eight homers and driven in 28 runs from the left side.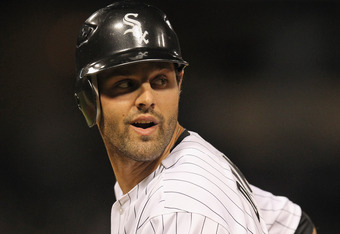 Jonathan Daniel/Getty Images
Assuming Fukudome returns to the lineup when he is eligible on June 19, Danks can expect to be a defensive replacement and pinch runner in the late innings. With a bunch of interleague games coming up, he may get to swing the bat a bit more often than he would if the White Sox were playing American League teams.
Can Danks impress enough with his bat to keep him in Chicago for awhile? Most of the bench is sub-Mendoza Line right now, so it is possible he could open some eyes with a couple of key pinch hits. However, his speed and defensive prowess are going to be called upon more often than not.
My thinking is that Danks can still contribute even if he struggles at the dish. He may not be up long in his first stint with Chicago, but it should be exciting to see the 6'4" Danks patrolling the outfield grass and giving chase to a sinking liner.
He may not get many chances to show it, but Danks earned his call-up. Now let's see what he does with his chance in the show.