UCLA Basketball: Are Bruins Destined to Fall Flat Under Increased Expectations?
June 8, 2012

Stephen Dunn/Getty Images
A recruiting class ranked as high as No. 1 in the nation has raised hopes at UCLA, but it could be setting the Bruins up for another fall. After all, UCLA only has to remember as far back as one year ago to be reminded of how badly preseason expectations can miss their mark.
The 2011-12 season was humbling in Westwood, as the Bruins plummeted from the No. 17 ranking in the preseason to a 1-4 start that included home losses to Loyola Marymount and Middle Tennessee State. The low point came when the team's most talented player, Reeves Nelson, was kicked off the roster after a series of clashes with coach Ben Howland.
Now, the Bruins find themselves in some preseason top 10 projections, thanks to the addition of an eye-popping set of recruits led by superstar SF Shabazz Muhammad. Once-bitten UCLA fans can be forgiven for worrying that a higher ranking just gives the team that much farther to fall, but the story will be different next season.
Here are three key reasons why the Bruins will be contending for a conference title, and maybe even a national title, in 2012-13.
The Bruins' roster is in far better shape than last year's edition
Entering 2011-12, UCLA had just lost its two most productive players (Tyler Honeycutt and Malcolm Lee) and its best remaining talent was the mercurial Nelson. Now, the Nelson saga is in the past and the Bruins' only departures are two solid but replaceable guards, Jerime Anderson and Lazeric Jones.
Most importantly, of course, the Bruins are bringing in a world of talent, with Muhammad becoming an immediate frontrunner for Pac-12 Player of the Year.
He'll be joined by Kyle Anderson, a highly touted point guard, and PF Tony Parker, who will add some skill to what's already a bruising front line (the 6'10" trio of Joshua Smith and Travis and David Wear).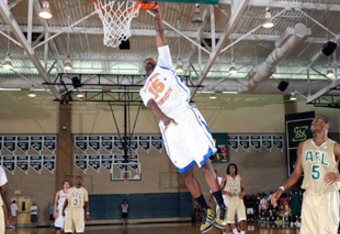 Ben Howland is better than he's being given credit for lately
Dating back to his days at Pitt, Howland has been a tremendous defensive coach. Even when his Bruins were playing in multiple Final Fours behind highlight-reel guard play, it was coming from the likes of Russell Westbrook and Darren Collison, guys who could play some serious D.
In that regard, last year was an anomaly, as the overmatched Bruin wings allowed opponents to shoot .364 from long range (tied for 273rd nationally).
With the superior athleticism arriving in next year's recruiting class, Howland will have the Bruin defense back in its usual shape, and that will add several wins to UCLA's total by itself.
The Pac-12 is going to be a two-horse race

UCLA's doldrums were just one part of a dreadful year for the Pac-12, so much so that regular-season champion Washington was left out of the NCAA Tournament field. The conference will be stronger in 2012-13, but not enough so to keep UCLA from shining.
Cal and Colorado both return solid rosters (headlined by Justin Cobbs and Andre Roberson, respectively), but neither have elite recruiting classes or the size to bang with UCLA's big men.
Arizona will be the biggest threat to the Bruins, thanks to a freshman class that rivals UCLA's own, but the Wildcats don't have more than a 50-50 chance of topping UCLA for the conference crown.
Next year's Pac-12 race could look very much like the top of the ACC standings last year, where regular-season champ North Carolina got a No. 1 seed and runner-up Duke earned a No. 2.
Even if UCLA can't beat out Arizona for the league title, they won't have a problem landing a No. 2 or No. 3 seed for the Big Dance and a correspondingly good shot at a deep March run.