Belmont Stakes Odds: Horses That Will Make Late Push for Win
June 8, 2012
Al Bello/Getty Images
Even if you don't consider yourself a huge fan of the horse races and the only horse you have ever heard of within the context of the Triple Crown is Secretariat, you have probably found yourself at the horse races or watching it on television at least once.
If you do find yourself watching the Belmont Stakes as a "beginner" viewer on Saturday, June 9, you will have two questions: "Why do these horses all have such awkward names?" and "Who, now that I'll Have Another has dropped, could make a late push and win this thing?" 
If you are a serious fan of horse racing, you already know that I'll Have Another was supposed to race on Saturday with hopes of being the 12th horse in history to capture the Triple Crown. Alternatively, I'll Have Another shockingly bowed out of the race late Friday morning, the day before the race. Trainer Doug O'Neil announced the news on the Dan Patrick Show.
Both I'll Have Another, and his main competition, Bodemeister, who finished second to I'll Have Another at both the 2012 Kentucky Derby and Preakness Stakes will not be participating Saturday. This leaves a huge open spot for any horse to take it. There is no longer an overwhelming favorite.
The Belmont Stake is the last race of the three that make up the Triple Crown—the other two, the Kentucky Derby and Preakness, are a huge factor in determining odds. Schedule and distance are of vital importance in determining odds at the Belmont Stakes.
Belmont Stakes is a long race; it is longer than the two previous races at a mile and a half. So, horses suited for long distance are better positioned to do well.
In addition, it is ideal that thoroughbred horses only race once a month or fewer than 10 times per year. And a result, scheduling is another key factor in analyzing horses for the toughest of the three Triple Crown races, which all take place within a five-week time span.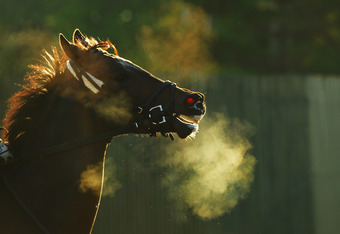 Al Bello/Getty Images
With Bodemeister out of the race, Paynter is a great choice to make a late push for a win, and many analysts are saying that the colt would have been I'll Have Another's main opponent come Saturday.
The owner of both Bodemeister and Paynter, Ahmed Zayat has publicly said that he believes that Paynter is the better horse of the two. As the race closes in, Paynter's odds get better and better. As of Friday morning, he is 8-1. With I'll Have Another gone as well, Paynter is sure to have a very good chance to win.
Paynter is a lightly raced horse, giving a slight advantage because he is well rested. 
Another horse that has a serious chance to win Belmont Stakes 2012 is Street Life. 
If you believe in superstitions, you will be interested in noting that Street Life starts in the No. 1 position, the starting slot for 23 Belmont winners, the most out of any of the starting slots. 
Trainer Chad Brown explains to those who observe that Street Life hangs back until late in the race that Street Life is a long-distance racehorse, improving as the race goes on. This could be a major game changer in a 1.5-mile race, as this is a very well suited racing style for Belmont. 
Street Life, like Paynter, is only lightly raced. It is only a matter of time before Street Life peaks as he has been vividly improving.
The only question is if he will unleash his full potential in time for Belmont. His odds as of Friday morning are 12-1, but like Paynter, they are sure to improve with I'll Have Another gone.