Derek Jeter: Best Shortstop We've Ever Seen
June 8, 2012

Jeff Gross/Getty Images
Derek Jeter is the greatest shortstop we've ever seen.
Sure, Honus Wagner is the greatest shortstop in baseball history—but who alive saw old Hans play?After all, Wagner last played 95 years ago, when Woodrow Wilson was President, World War I was being waged and Babe Ruth was still pitching.
Wagner won eight National League batting titles, all with the Pittsburgh Pirates, and swiped 722 bases before retiring. In 1917.
His career numbers are awesome.
But moving on to shortstops who actually played after the Teapot Dome scandal, the Roaring Twenties and the Jazz Age, Jeter is the best.
With apologies to Joe Cronin, Luke Appling, Arky Vaughn, Ozzie Smith, Pee Wee and the Scooter, Jeter beats out Cal Ripken for the title of best shortstop we've ever seen.
Let's compare Jeter and Ripken:
Batting—Jeter has a .313 lifetime batting average, well ahead of Ripken's .276. Advantage Jeter
Power—Ripken 431 hit career home runs, nearly 200 more than Jeter's 246. Advantage Ripken
Run Production—Ripken's 1,695 RBIs beat out Jeter's 1,216. Advantage Ripken
Speed—No contest. Jeter has 344 stolen bases, Ripken 36. And Jeter has scored 1,799 runs, well ahead of Ripken's 1,647. Advantage Jeter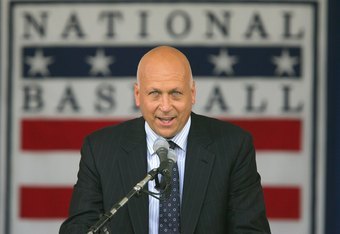 Chris McGrath/Getty Images
Awards—Both Ripken and Jeter won Rookie of the Year honors. However, Ripken was voted AL MVP in both 1983 and 1991. Advantage Ripken
Fielding—Jeter won five Gold Gloves at shortstop, Ripken two, and his .972 lifetime fielding average bests Ripken's .969. Advantage Jeter
Championships—Jeter was a member of five Yankee World Series winners. Ripken won one World Series with the Orioles. Advantage Jeter
Durability—Jeter has been amazingly durable through his career. But Ripken broke Lou Gehrig's record and played in 2,632 consecutive games. He's the Iron Man. Advantage Ripken
Hits—The tiebreaker. Ripken is 13th on the all-time list with 3,184 hits. Jeter trails him by less than 20, and stands to challenge some of the all-time leaders. Moreover, Jeter is already the all-time hit leader as a shortstop. Wagner is fifth all-time with 3,415 hits, but played a lot in the outfield and at first base and third base. And Ripken was a third baseman in his final six season. Advantage Jeter
So that's it. Of these nine key categories, Jeter wins five and Ripken four. That makes Jeter the best shortstop of the modern era.