LPGA Championship 2012 Leaderboard: Top Storylines Heading into Weekend
June 8, 2012

Scott Halleran/Getty Images
Mother Nature added an element of difficulty to the 2012 Wegmans LPGA Championship on Friday.
Along with the treacherous three-and-a-half inch rough outlining the Locust Hill Country Club golf course, the winds picked up and added more adversity as only 11 players remained under par after the second round.
Paula Creamer (two-under-par) finished her second round just one shot behind 36-hole leader Se Ri Pak and talked about the conditions in her post-round presser:
"It's hard out there," she explained. "Some of the holes, the tee shots with this wind—it gets pretty narrow. It does put a premium on the fairway. But this golf course without wind is hard right now. When you add trying to stay below the hole with these front pins today, it's hard. Two putts are good out there."
Korean golfers are dominating the leader board with six of the top 11 players, including the aforementioned leader, Pak, who was three-under-par after firing rounds of 70 and 71.
What makes Pak's play so impressive thus far is her return from a shoulder injury that was expected to sideline her for most of the summer. The World Golf Hall of Famer is using her experience to her advantage, though.
"Sometimes bogey is a good score," she admitted in her post-round presser. "The golf course is playing so hard."
The other Korean players under par after two rounds are Inbee Park, So Yeon Ryu, Na Yeon Choi, Mi Jung Hur and Eun-Hee Ji. Park is two-under-par while Ryu—the reigning US Women's Open champ—is at one-under-par along with Choi, Hur and Ji.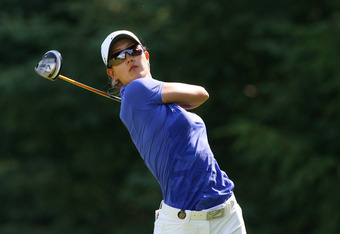 Hunter Martin/Getty Images
While the Koren golfers are playing well, the biggest storyline, without question, has been the lackluster performance of defending champion Yani Tseng, the world's No. 1 player.
Tseng blistered a tamer Locust Hill golf course with a 19-under-par total in 2011, but this year has been a much different story. She followed her disappointing opening round score of 76 with a three-over-par 75, shockingly placing her right on the cut line at seven-over-par.
After her round, she expressed her frustration:
"This morning on the front nine, I shot very well," she said. "I hit it on the fairway, hit it on the green, kept it very close to the pin—but just didn't make a putt. I still finished two-under on the front nine, but the back nine I struggled with my driving."
Of course, if you struggle with your driving on these narrow fairways, you're going to suffer the consequences in the lush rough.
I walked the entire golf course today—following Suzann Petersen, Lexi Thompson and Brittany Lincicome for 18 holes—and I can tell you the rough is a mangled mess. Simply getting the ball back into the fairway is sometimes the only option after a wayward tee shot.
Tseng barely made it to the weekend, but other notable players who struggled and missed the cut were Michelle Wie, Natalie Gulbis and Azahara Munoz, the winner of the Sybase Match Play Championship just a couple weeks ago.
For Wie, it was the continuation of a free-fall that has seen her miss the cut at every tournament she has played in the US this year. She followed her opening round of 74 with an extremely disappointing 82 to finish at 12-over-par.
Cheyenne Woods, the niece of Tiger Woods, followed her opening round of 75 with a 79 and missed the cut in her first outing as a professional.
David Kindervater is a Featured Columnist for Bleacher Report. All quotations in this article were obtained via press conferences at the Media Center at the Wegmans LPGA Championship.