Pacquiao vs. Bradley: Upset Split Decision Robs Manny Pacquiao of Victory
June 10, 2012

Kevork Djansezian/Getty Images
The highly touted fight between Manny Pacquiao and Timothy Bradley ended in a wild fashion, with Bradley earning the upset win on the judges' scorecards.
Despite Manny "Pacman" Pacquiao entering the fight overweight, many still felt he had the guns to notch Bradley's first loss of his career.  With Pacman's dominance, the idea of retaining his WBO welterweight title seemed like a viable possibility. 
But with the judges' split decision in favor of Bradley, the boxing world has been rocked!
The fight sifted through all 12 rounds before it went to the judges' scorecards.  As the first two judges' scoring read 115-113, one in favor of each boxer, the third and final score shocked the crowd, fans and even Timothy Bradley himself. 
The score of the third judge had 115-113 in favor of Bradley. Had the Nevada desert caused a mirage that covered the judges' eyes, causing them to miss seeing Pacquiao?
Reaction from Yahoo! Boxing analyst Kevin Iole stated the finish perfectly:
115-113 twice for Bradley and 115-113 once efor Pacquiao. Split for Bradley. I am shocked, stunned

— Kevin Iole (@KevinI) June 10, 2012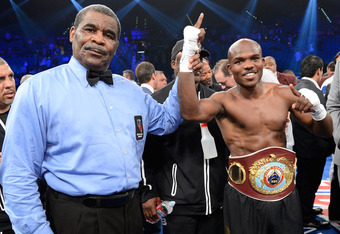 Kevork Djansezian/Getty Images
Timothy Bradley felt unsure of the outcome of the match.  He stated that he must watch the tape of the match to see who won.  When HBO analyst Max Kellerman asked Pacquiao if he had won, Pacman replied, "Absolutely. Yes."
Online message boards including Twitter have erupted, stating that Pacquiao had been robbed of retaining his title.  Dana White tossed out his feelings on the Nevada commission.
Worst athleticcommission in the country!!!!!!!!!!!!

— Dana White (@danawhite) June 10, 2012
Teddy Atlas, reported by Brad Smith, even jumped in with his own thoughts on the outcome of the fight.
Teddy Atlas claiming on @ESPNBoxing that Bradley got the decision because Pacquiao is about to leave Bob Arum.

— Brad Smith (@THEDEEPDIG) June 10, 2012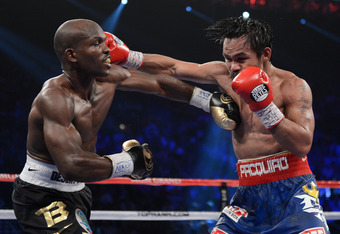 Kevork Djansezian/Getty Images
Pacquiao threw 253 punches out of 751, which topped the punching by Bradley, who notched only 159 out of 839.  Punches certainly do not always tell the whole tale of the fight, but Pacman controlled this fight with only two to three rounds in favor of his opponent.
Do the boxing promoters want to delay a Manny Pacquiao versus Floyd Mayweather bout?  Is there a better opportunity with a Bradley versus Pacquiao rematch?
Could the fight have been rigged in favor of Timothy Bradley in favor of a better business outlook?  What do you believe?  With the winning fighter questioning the fight and fans outraged with the scoring, the answer may point to yes.