Manny Pacquiao vs. Timothy Bradley: A Black Eye for Boxing
June 10, 2012

After 12 rounds of Manny Pacquiao vs. Timothy Bradley, it seemed as though everyone in the world had witnessed Pacquiao's 55th victory.
Then, the three judges at ringside got their say:
Judge Jerry Roth:  Pacquiao 115-113 Bradley
Judge C.J. Ross: Pacquiao 113-115 Bradley
Judge Duane Ford: Pacquiao 113-115 Bradley
In one of the most shocking upsets in boxing history, Bradley defeated Pacquiao by split decision to take the WBO welterweight title.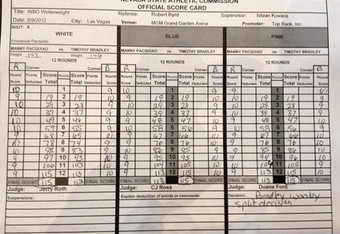 This should be the greatest night of Bradley's life. A night where fans applaud his gutsy performance, against one of boxing's greatest fighters of all time. 
Instead, his career-defining moment will forever be tarnished by controversy. 
How could judges give rounds to Bradley where he was out-punched and out-worked? How can so many people see a fight one way and have those who ultimately matter see it completely the opposite? 
Unfortunately, this is nothing new. Welcome to the sport of boxing. 
The sport has lost credibility with fans largely due to contentious decisions. Fights are subjective, where one "qualified" official decides who controls the action and based on a historical point system who is declared the winner.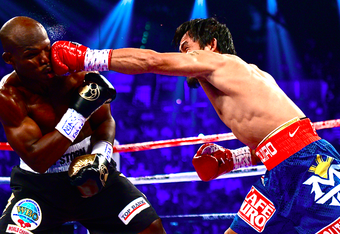 But, it seems, each judge has his or her own interpretation of what a winning fighter looks like. What is effective aggression? How does someone show ring generalship? One judge seeing a fighter "running" is another judge's "defensive counter puncher." 
We know boxing isn't perfect; the judging system will probably always be flawed. But, decisions like Pacquiao-Bradley are unacceptable.
So, where does this leave these two fighters?
Both men fight under the Top Rank umbrella. With Bob Arum promoting the two boxers, negotiations should be quick and painless. The rematch should take place in November.
Hopefully, we get a boxing classic. A rematch for the ages.  It's the least the fight can do to make up for what their first encounter produced...
A black eye to the entire sport.