Pacquiao vs. Bradley Results: What Were the Judges Really Thinking?
June 10, 2012

Kevork Djansezian/Getty Images
Abhorrent, atrocious, heinous, disgusting, wretched. These are some of the adjectives that spring to mind when evaluating the performance of judges Jerry Roth, C.J. Ross and Duane Ford at last night's Manny Pacquiao-Timothy Bradley welterweight title fight at the MGM Grand in Las Vegas.
Even Roth, who scored the bout 115-113 in favor of Pacquiao, shouldn't be excused of fault on the grounds that he actually picked the correct winner. How Roth—let alone Ross and Ford, who inexplicably had Bradley winning—could have given Bradley five rounds is a pathetic exercise in incompetence that has dealt boxing yet another black eye.
Pacquiao (54-4-2, 38 KOs) had his WBO welterweight title snatched from underneath his nose in a fight where he landed the more telling blows, demonstrated sound ring generalship and consistently got the better of the fight's meaningful exchanges.
The one person we should be careful not to blame in all of this madness is Bradley (29-0, 12 KOs). Despite being clearly beaten, Bradley deserved to share a ring with Pacquiao, and many of the rounds were competitive. The only problem for Bradley was that being competitive did not translate into actually winning rounds.
Bradley was unable to move his head effectively, and whenever he leaned to his right, he was usually ducking into a crisp straight left hand from Pacquiao. While CompuBox is not always the best arbiter of who won a fight (see: Pacquiao-Marquez III), the raw numbers of Pacquiao-Bradley are staggering.
Pacquiao out-landed Bradley 253 to 159, and his connect percentage of 34 dwarfed Bradley's 19. More telling, however, was the discrepancy in power shots. Pacquiao connected on 190 of 493 power punches for a surgical connect rate of 38.5 percent, while Bradley only landed 109 of 390 power shots for a connect percentage of 27.7.
Considering Pacquiao landed the more eye-catching and significant blows, a plus-82 in power punches landed is noteworthy—to say the least.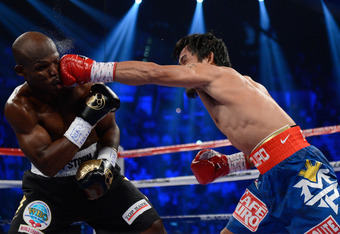 Kevork Djansezian/Getty Images
But What Were the Judges Actually Thinking? 
Before I begin this section, I need to include a prefatory remark to clarify that I had Pacquiao a clear winner. In fact, I felt guilty wanting to score the fight 117-111 (nine rounds to three) and had to realistically admit that Pacquiao had probably clearly won 10 of the 12 rounds.
Now, if Jerry Roth, C.J. Ross and Duane Ford had to justify their judging of last night's fight before a tribunal—which might not be a bad idea—here's what they might point to.
It would take an extremely persuasive person to convince anyone with decent eyesight that Bradley won more than one of the first six rounds. Even in the first round, which could perhaps have been scored for Bradley, Pacquiao ended the frame with three consecutive straight left hands.
Pacquiao's straight left, which regularly snapped Bradley's head back, was a consistent weapon throughout the fight. Despite this, Bradley often returned fire quickly, even if his punches were mostly hitting leather and were clearly not inflicting significant damage. While Bradley was rocked on a few occasions, he did an admirable job of showing his fighting instinct, and this aggression could have persuaded the judges that Pacquiao's blows weren't hurting him.
Bradley's willingness to return fire almost immediately after getting hit could have persuaded or fooled the judges into thinking that he was getting in the last punch during some exchanges. While it seemed clear enough that Bradley's punches were often parried, evaded or only partially landing, his overall work rate might have won him some rounds.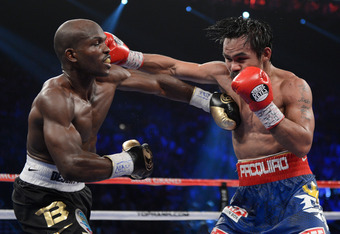 Kevork Djansezian/Getty Images
Another interesting factor was Bradley's ducking, bobbing and weaving. In attempting to evade punches, Bradley often resorted to contorting his body out of the way in exaggerated postures that had the crowd howling because it seemed like Pacquiao was tagging him.
If evaluating exchanges where Bradley was swaying away from punches with his body, it is fairly clear that Pacquiao wasn't landing as cleanly as when he countered Bradley or had him fighting off his back foot. In seeing Bradley evade these punches from Pacquiao, the judges could have noted his ring generalship in using space to evade blows while maintaining balance to launch an attack of his own.
While these arguments are certainly tenuous, the change in tempo during the fight's later rounds is more significant in trying to award Bradley rounds.
When Bradley finally stopped standing in the pocket and trading punches, he was hit with far fewer eye-catching left hands. In fact, in the later rounds, Pacquiao seemed to ease off the gas pedal and spend extended stretches stalking Bradley as both men decreased—they seemed to, at least—their punch output.
After Bradley rolled his ankle, he spent more time circling and staying on the outside. By fighting in spurts, Bradley was able to use skirmish tactics where his small bursts of volume punching allowed him to out-throw Pacquiao.
While Pacquiao was still landing the heavier punches, Bradley had a higher work rate—even if many of these shots were jabs. These were the only types of rounds where the judges could have conceivably given Bradley credit for dictating tempo.
Bradley's skirmish tactics were intelligent, as his quick flurries only gave Pacquiao the chance to land one or two solid punches at a time. I still think Pacquiao got the better of most of these exchanges with harder punches, but the abrupt shift in Bradley's tactics—a strategy that did more to somewhat negate what Pacquiao was doing as opposed to actually giving Bradley a distinct advantage—was admirable.
While Pacquiao was unable to land the full force and volume of his dazzling combinations, he clearly landed the more telling punches, which should have been enough to give him a lopsided decision.
It is still nearly impossible to fathom what the judges saw in this fight, and in trying to inhabit their mindsets, I feel somewhat corrupt. They ruined what should have been an excellent night for boxing.