Stanley Cup Finals: Zach Parise's Free Agency Price Continues to Climb
June 11, 2012

Jim McIsaac/Getty Images
You watched it with your own eyes. He was on a mission. Both Zach Parise and the New Jersey Devils let it all hang out in Game 5, and there was no better player on Saturday night than No. 9 in red.
It's interesting to think about Parise hitting the open market, and while the Devils will want to give him a restful summer after the Stanley Cup Finals, one can imagine Lou Lamoriello will be calling Parise's agent the moment the series is over.
Parise has been a force in the postseason and the longer the Devils have played the larger his stock has risen in the free-agent market. He has now given added credibility to being one of the most durable two-way hockey players in the league. The Devils better hope that they can come up with a long-term deal to satisfy Parise as teams will be lurking.
Before the postseason began, I would have put money on Ryan Suter commanding the most lucrative free-agent contract of the summer. Now, I will put my chips on Parise. We still don't know if either of these two will hit the open market, but if Parise does, it is not unrealistic to think that he could command somewhere between $8-9 million a season for six or seven years.
Think that is unrealistic? It's not.
Parise is a perennial 30-goal scorer and his 2008-09 season saw him notch 94 points. In the regular season of 2011-12 he tallied 31 goals and 69 points, but his playoff performance has given him a new identity.
With eight goals and 15 points he has been the best asset on the Devils. You can make the argument for Ilya Kovalchuk, but Parise has the rare attribute of being as complete of a hockey player as one can be in both ends of the ice.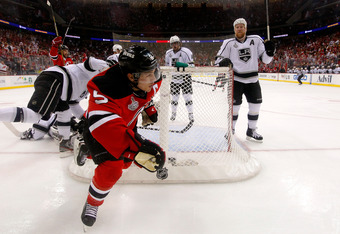 Paul Bereswill/Getty Images
Consider current forwards that are making over $8 million per season and Parise's agent should have his argument right there. Sydney Crosby, Evgeni Malkin, Eric Staal and Alexander Ovechkin are all making yearly salaries in that range.
While it may be easy to say that Malkin has the better overall package and perhaps Ovechkin may possesses the same, we may have seen the best of Sydney Crosby already. In fairness to Crosby that contract was signed before he had major health issues and he was without a doubt the best player in the league. He is still dazzling but it will be interesting to see where his current price tag is considering concerns about his longevity.
But Parise should be on par if not better than Eric Staal. Yes, Staal is stuck on a poor team with little help, but statistically his 24 goals and 70 point season are similar to that of Parise.
There are also players such as Dany Heatley, Scott Gomez, Vincent Lecavalier and perhaps Thomas Vanek that are making over $7 million a year and are not worth that coin. These are players that do not provide nearly as much to their clubs as Parise does.
So, if the Devils do not get it done before July 1, look out. Now, with rumblings that the NHL salary cap will increase to $70.3 million for the 2012-13, you can bet that there will be a club willing to throw a very lucrative deal at Parise.
He is a hockey player that does not come around often enough. He's an excellent skater, that plays at can score and protects the puck incredibly well for someone his size.
On the cusp of turning 28 in July, he still has some great years ahead of him. Time will tell on the size of the contract, but because of what he has done and continues to do in the postseason, rest assured, this man will get paid.
Thanks for reading.