Arizona Basketball: Which Recruit Has the Biggest Impact?
June 11, 2012

The fate of the Arizona basketball program in 2012-13 will be in the hands of its amazing recruiting class, but that burden won't be shared equally. Even in a class with an absurd total of three 5-star freshmen, some will have more to say than others about how quickly the Wildcats will bounce back from last year's lackluster 23-12 record (complete with a first-round NIT loss to Bucknell).
Here's a look at what each member of that 5-star trio is likely to contribute in his first season in Tucson, and why in this case, the most celebrated recruit will also have the biggest role in Arizona's success.
1. Kaleb Tarczewski
The jewel of Arizona's incoming class, Tarczewski is ranked as high as fourth among all recruits in the country (by ESPNU). He's a true 7'0" center who, even before hitting a college weight room, is listed between 220-240 lbs.
Tarczewski's power game is exceptional, especially his ability to control an area down low—as both a finisher and a rebounder. Arizona already has at least one big-time jump shooter (Xavier transfer Mark Lyons), so adding a low-post Goliath will give them one of the nation's best half-court offenses.
The other key factor that gives Tarczewski the potential to be such a crucial addition is his shot-blocking. He's no Anthony Davis, but on a defense otherwise lacking in playmakers, his length and improving defensive instincts will make everyone else's job easier for the Wildcats.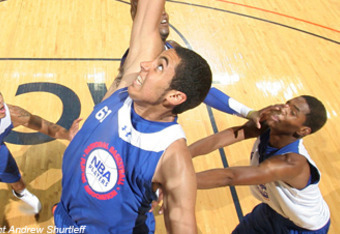 2. Grant Jerrett
At 6'9", 220 lbs, Jerrett is a fairly imposing presence in his own right. Despite his size, though, he can be outmuscled, which is one of the major reasons he takes a back seat to Tarczewski in this loaded frontcourt.
What Jerrett does bring, more effectively than any of Arizona's other incoming big men, is terrific shooting range, even out to the three-point arc. He'll mesh nicely with Tarczewski, stepping outside to spread the floor while his bigger classmate carves out space in the low post.
3. Brandon Ashley
As the smallest of Arizona's incoming post players—at "only" 6'8", 215 lbs—Ashley is the likeliest to have his playing time cut into by rising senior Solomon Hill. The 6'6" Hill led the team in rebounding with 7.7 boards a game but also has enough of an outside shot (.394 from long range) to get some minutes at the SF spot now that the Wildcats have added so much size.
When the sure-handed Ashley is on the floor, he'll be most effective in the paint, especially if the Wildcats play him at the 3-spot—which he has the athleticism to pull off—to maximize his size advantage. He's an impressive scorer, but not enough that Sean Miller is going to opt for having him set up on the low block if the bigger, stronger Tarczewski is on the floor.