Jared Allen: Counting Down the Top 5 Players in the NFC North
June 11, 2012

Adam Bettcher/Getty Images
Narrowing down the great players in the NFC North to just five is a tough challenge.
There are plenty of players who could be on this list and yet won't. This will in all likelihood not be the same as your list.
My criteria was the following:
Impact over the last few years
Importance to team
Pure overall ability
Things that do not count are:
Off-the-field stuff
Popularity
What they score in fantasy football
If they kick puppies
I suppose that last one could be part of off-field stuff, but I think it deserves it's own category.
To kick things off I chose the Vikings' Jared Allen—arguably the best two-way defensive end in the league.
On a team where nothing much went right in 2012, Allen had one of his best years at the position ever. Not just in tackles either—his 22 sacks were amazing considering the defense struggled. That sort of thing tends to translate to tackles, not sacks, as teams can move the ball at will, making defenders chase them all over the field.
Allen is also, of course, a leader on the team as well and helped hold his team together through a very rough season.
While Allen is approaching a decade of NFL grinding, his play hasn't dropped off at all.
He's averaged 15 sacks a year the last five years and though he had a down year in 2010, it didn't last and wasn't severe. Allen has been productive on a consistent basis, putting up solid numbers and making big plays pretty much during every game.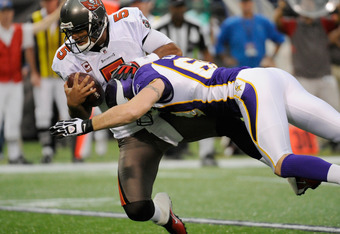 Hannah Foslien/Getty Images
Allen does this, despite routinely being double-teamed, which in many ways makes his numbers the last few years even more impressive. While Brian Robinson has become a solid player at the other end spot and Chad Greenway continues to play very well at linebacker, there is precious little else to support Allen.
This allows the offense to focus on stopping Allen—for all the good it does them.
Allen has been a power on this defense since arriving in 2008 and it doesn't appear as if he will be slowing down any time soon.
When you compare him to many other players—not just defensive, but offensive as well—few can compare with his sustained success at the pro level, even just for the past few years.
Some NFC North players who are behind him have been good for a year, maybe two, but haven't sustained it consistently, while others have a much better supporting cast and deal with less attention on a snap-to-snap basis.
Jared Allen's ability to produce year in and year out, despite some issues with the players around him on both sides of the ball, put him high on my list of not just great NFC North players, but great NFL players, period.