Liverpool Transfer News: Latest Rumors and Notes on Reds
June 11, 2012

David Ramos/Getty Images
After a poor offensive season, Liverpool Football Club is looking to add new talent, and they have a few big-name targets in mind.
According to the Spanish source Sport, Barcelona's Cristian Tello can join the Reds—but for a price: It is rumored that Barcelona is willing to sell the 20-year-old star for £8.1 million.
With seven goals in 22 games, Tello might be worth the money for the Reds. He is an extremely versatile player and can not only suit up as a striker but also play out on the flank, where Liverpool was struggling last year.
However, Tello's big price tag is an issue for Liverpool manager Brendan Rodgers.
It is unknown whether Rodgers will be able to spend as much as Kenny Dalgish did, but Liverpool's need for explosive offensive players may negate the cost.
According to the Daily Star, Liverpool has also targeted Chelsea striker Daniel Sturridge.
Sturridge has the even bigger price tag of £15 million, but his speed and precision-passing may be invaluable for the Reds.
According to the International Business Times, Sturridge is annoyed with the management in Chelsea, which may help to fuel the move to Liverpool.
Sturridge had 13 goals in 41 games with Chelsea, and although he has been known as an injury-prone player, his shooting ability may be too good to pass up.
Rounding out Liverpool's new potential group of offensive talent may be former Chelsea winger Salomon Kalou.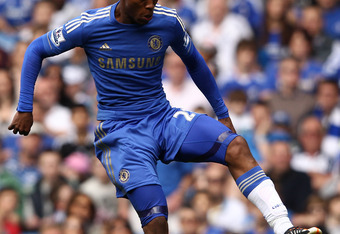 Ian Walton/Getty Images
This news comes from German outfit Schalke 04. What's interesting is that Bundesliga side Schalke are also interested in landing Kalou.
However, Schalke's boss Huub Stevens has said that Kalou is interested in leaving England, so the Reds will have to fight if they want to add him to their growing arsenal of offensive talent.
While Liverpool is primarily trying to add players right now, they may also be in the process of dropping two.
Reds midfielder Alberto Aquilani was on loan at AC Milan last season, but because he didn't appear in 25 Serie A games, the deal was not solidified.
According to Italy's Corriere dello Sport, Milan is still very interested in Aquilani—just not his price. Milan is hoping that Liverpool cancels Aquilani's contract so they don't have to pay extra.
Lucky for them, TalkSport has said that Rodgers is willing to sell the midfielder to Milan for £3 million. Aquilani still has two years left on his five-year contract with Liverpool, but it looks like he will be dropped earlier for a bigger offensive talent.
Joining Aquilani on the way out of Liverpool may be Jesús Fernández Sáez, according to Liverpool News.
Bristol City is very interested in the 18-year-old "wonder kid" and wants him for a season-long loan, according to footylatest.com.
Ironically, Sáez has yet to make his first appearance for Liverpool, but Bristol City's Derek McInnes is still impressed.
There is no formal deal on the table yet, and Rodgers will be very reluctant to loan a player to Bristol, but after a miserable season for Bristol City—they finished 20th in The Championship last season—their desperation could mean big bucks for Liverpool.