Pittsburgh Steelers: 5 Biggest Non-Divisional Opponents in 2012
June 13, 2012

Jared Wickerham/Getty Images
It's pretty well known that if you win your division in the NFL, the schedule makers don't do you any favors.  That's just how it works.  Despite finishing in 2nd place of the AFC North, the Pittsburgh Steelers 2012 schedule looks like one that could provide some serious turbulence. 
Taking away the six divisional games they play, you have a 10-game schedule that features a very rugged four game run against the NFC East and four games against an improved AFC West.  Add the Titans and Jets to the mix and we now shake, stir and serve you the five best opponents in that offering.
5.  Washington Redskins (October 28th, Heinz Field at 1:00 PM) The primary reason (well, the ONLY reason) I have the Skins on this list is because of RG III.  His arrival will mark the first time a reigning rookie Heisman winner will step on our turf since Eddie George did so in 1996 with Houston.  Carson Palmer came to Heinz Field in 2003 fresh off winning the award, but did not start his rookie year.  Reggie Bush visited Heinz in 2006 with New Orleans having collected the Heisman hardware, but was later stripped of it.  Let's hope RG III has a similar day as George did when he was held to just 47 yards on 11 carries in a 30-16 Steelers win.
4.  Philadelphia Eagles (October 7th, Heinz Field at 1:00 PM) You can chalk this one up to bitter hatred for the city they hail from.  In the world of Pittsburgh vs. Philadelphia, this is one where we have the upper hand for sure.  The six Super Bowls alone make any Eagles fan green with envy.  Add to the mix Mike Vick coming to town and it amps this one up a bit more.  Sprinkle in former Pitt RB LeSean McCoy and add a dash of DeSean Jackson and you have the recipe for what should be a nasty affair between two bitter in-state rivals.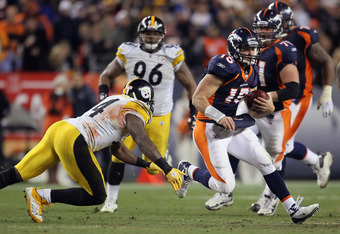 Jeff Gross/Getty Images
3.  New York Jets (September 16th, Heinz Field at 4:15 PM) Has the sting of hearing the name Tim Tebow gone away yet Steelers fans?  I didn't think so.  Some might argue that Tebow will be the Jets starter come this date in the schedule, given the fragile nature of the QB position and how rocky things seem to be with Marc Sanchez.  I say, who cares!  If Tebow steps on the turf, I'm willing to be James Harrison & Co. will do their best to repay him for his OT heroics five months ago in Denver. 
2.  New York Giants (November 4th, Met Life Stadium at 4:15 PM) Any game involving the defending Super Bowl champs has to make the list and rate high.  This has accomplished both.  This will be the third meeting between Eli and Ben, both members of the NFL Draft class of 2004.  Each has won a game on the opponents turf.  Let's hope the patter can continue when both clubs meet in the Apple. 
1.  Denver Broncos (September 9th, Sports Authority Field at 8:20 PM) It's as if Roger Goodell himself hand picked this game to finish off the first Sunday of regular season play.  A National TV audience will be watching as Peyton Manning makes his first start for an NFL team not named the Indianapolis Colts.  That he is doing so against the Steelers who had their season come to an end on the same field nine months earlier makes the stakes even higher.  Ben vs. Peyton is the icing on this football cake and I can assure you there won't be a single morsel left when it's done being played out. 
John Phillips is the author of this article.  When he's not changing his newborn daughters dirty diaper, he can found on Twitter at http://www.twitter.com/PGHJohnPhillips