Manny Pacquiao vs. Timothy Bradley: Is This the Knockout Blow for Boxing?
June 11, 2012

Jeff Bottari/Getty Images
Allow me to get this out of the way up front, if you please.
I've been an avid boxing fan for about thirty of my 35 years. One of the first fights I ever watched on TV was the infamous Ray "Boom Boom" Mancini vs. Duk-Koo Kim fight in 1982, which resulted in Kim's death a few days later, and changed the landscape of the sport forever.
I was all of five years old at the time, and in all the years since, I've seen my share of crazy things that happened in the ring.
Meldrick Taylor being stopped by referee Richard Steele in 1990 with :02 left, after being knocked down by the great (and at the time unbeaten) Julio Cesar Chavez. Chavez again remaining unbeaten after getting a draw against a far superior (on that night, at least) Pernell Whitaker in 1993.
I've seen Mike Tyson at his best and worst, tearing men apart with both his fists and his teeth. I saw my childhood hero, Marvelous Marvin Hagler be ousted by a close decision to Sugar Ray Leonard in 1987, then walk away from the sport forever.
And I want to be crystal clear about this point.
I've seen Manny Pacquiao, of whom I am an admitted and unabashed fan, go toe-to-toe with his absolute foil, Juan Manuel Marquez three times, and while I believe the scoring in the first two fights was accurate, I think Marquez did enough to win the third fight last year.
What happened Saturday night at the MGM Grand in Las Vegas, though, I'm still shaking my head about two days later, and having reviewed the fight twice, both with the HBO commentary on, and with it turned off. Both times, I came to the same conclusion.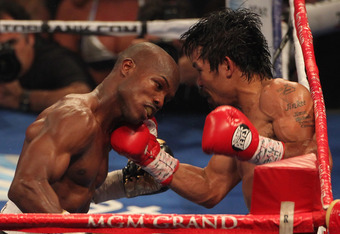 Jeff Bottari/Getty Images
There was no way, none at all, that Timothy Bradley should've been given the decision.
Now before going into the judges, it's important to establish how the fighters themselves could've brought this controversy on themselves, starting with Pacquiao.
First, Pacquiao came out as he usually does, establishing his hand speed and finding openings for his left hand. His approach seemed no different than in his last five or six fights. During the middle rounds, when he began to sting Bradley with the left, he also did what we're accustomed to seeing in Manny trying to put his man away and keep the pressure up.
Only it didn't happen, and then we saw something I doubt any of us who've followed "the PacMan" since he was a lights-out featherweight expected to see from the most dynamic offensive fighter of his time. He sat back and was hesitant. Not cutting the ring off, not upping the tempo and not brandishing the sort of determination we've expected from him.
Now you could make the argument that at 33 years-of-age, and with all the outside calamity in his life which arose following the controversial third win over Marquez, that maybe his age and the trappings of being a worldwide megastar, as well as a Congressman, has sapped Pacquiao of that edge which made him so dangerous for so long.
But that would also take away from what Timothy Bradley was able to do against him to stay in the fight.
Yes, Bradley does not have the power to damage a chin like Pacquiao's. Yes, Bradley missed over 80 more punches than Manny, and many of them were power shots, and yes, Bradley hurt his foot backing out of a Pacquiao flurry in the fourth round. He also was able to shuck and jive away from most of Manny's power shots all night.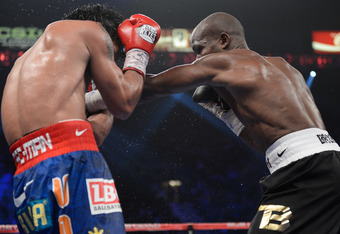 Kevork Djansezian/Getty Images
For being only 5'6", Bradley did a great job of getting down low against the slightly taller Pacquiao, making it harder for the Filipino to lower the boom. It was reminiscent in some ways of how Smokin' Joe Frazier bobbed and weaved his way inside on Muhammad Ali in "The Thrilla in Manila". But that's where the comparisons to the great Smokin' Joe end for the new champ.
This also in no way was Tim Bradley's fault that this happened any more than it is Pacquiao's.
When fighters step in the ring, they don't have any real foresight into what's going to happen or how a fight's going to unfold, which leads to the unpredictability that makes the sport an attraction. 
Bradley portrayed himself in HBO's "24/7" coverage as a stand-up, dedicated family man with something to prove, and both he and Pacquiao carried their admirable qualities with them into the post-fight festivities as well.
It's a shame that what is easily the biggest win of his life had to come under such controversial circumstances, because the genie can't be put back in the bottle.
And he has the two judges who saw the fight the opposite way from Jerry Roth's 115-113 for Pacquiao to thank for that.
Judges C.J. Ross and Duane Ford went on the record Monday with the Las Vegas Review-Journal, defending their 115-113 votes for Bradley.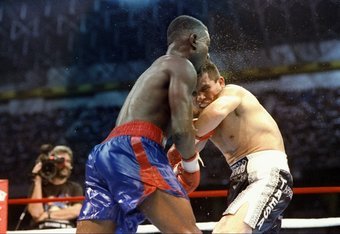 Holly Stein/Getty Images
"I thought Bradley gave Pacquiao a real boxing lesson," Ford told the paper.
Forgive my ignorance, but not since the days of Wally Pep has a boxer been rewarded for doing so little in a fight. None of Bradley's flurries rocked Pacquiao, nor did they connect frequently enough to be scored consistently.
I am not a professional boxing judge, nor do I claim to be, but in watching fights, I try to go by what I believe the judges are looking for. Namely, who's the busier fighter, who's connecting more, who's showing signs of damage and is one fighter making the other miss.
And in the era of Compu-box and HBO's Fight Zone, which both document how many punches land and where, one would think the scoring and decision-making processes in boxing would be easier. Ultimately, though, it comes down to what three judges see, and all that comes with it in terms of acknowledged scandal and insinuations about a sport ruled by accepted corruption for decades. 
The question now is, what's to be done about it? How do you clean up a sport that seems to have no interest in being run cleanly? I have a couple ideas:
1.) Establish an independent and autonomous national commission, with no ties to promoters or government entities.
Make it like the commissioner of baseball in that they have the power to regulate, organize and intercede in matters between fighters and promoters, as well as the ability to review fights and if necessary, overturn decisions based on definitive evidence of wrong-doing.
2.) Retract both the divisions and the sanctioning bodies.
It's a game of alphabet soup in boxing with new sanctioning bodies popping up all the time. It used to be just the WBA, WBC and the IBF who were recognized as the "official" title-holding entities in the sport. Now we have the WBO, IBO, NABF, IABF, ASAP, PDQ and so on down the line.
There are also too many divisions with too many belts. It doesn't take an economics major to understand the nature of supply and demand. Adding junior and super to every division dilutes the product, and to my knowledge, the weight classes haven't been changed since they were established back in the late 1800s.
I'm not saying do away with welterweights or cruiserweights or bantamweights. Rather, merge the smaller divisions so if you're between 160-168, you're a middleweight. End of discussion.
3.) Take broadcasting power away from the promoters
This has the least chance of being reformed, given how Pay-Per-View and the profit therein has dictated boxing's destiny for 30 years, but it's time to go back to a more traditional format of showing big fights.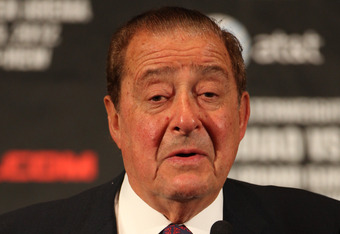 Jeff Bottari/Getty Images
There was a time in which boxing was on every weekend on ABC. It was also on ESPN, Fox Sports and the USA Network, as well as HBO and Showtime. Now, the only way to get a big fight is to shell out the money for Pay-Per-View, and hope it lives up to the hype. More often than not, the cards don't, which is why you have an ever decreasing fanbase and less interest in the sport.
There's also a reason why the UFC/MMA movement has conquered boxing in the last decade. Dana White knows how to both market and promote his sport better for networks to make money. 
Mixed-Martial Arts may be a more barbaric sport, but people turn out in droves to see it and watch it on TV, and the UFC's relationship with Spike and other networks have helped establish that in the wide spectrum of cable TV.
Boxing, meanwhile, has languished by refusing to innovate and update its marketability as a sport. Will it ever be what it was from the 1950s to the 1980s as a television draw? Probably not, but there comes a time when doing the same old thing just isn't financially in the best interest of everyone involved.
The NFL figured that out a long time ago, and the BCS in college football is finally coming around. Even golf has found ways to be ahead of the curve in terms of broadcasting and marketability. Yet "traditional" sports like baseball, hockey and boxing have fallen further and further behind.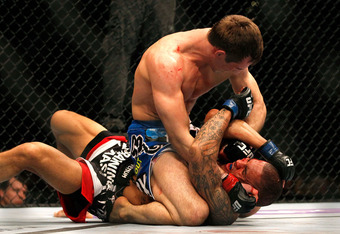 Kevin C. Cox/Getty Images
I love boxing. I know I always will, despite what's happened to it. But something needs to be done to save it from itself, and maybe what happened Saturday night could be the catalyst for the reforms which the sport desperately needs.
Every account of every established boxing writer who was at the MGM Grand Saturday night all seemed to ask the same question.
How has it come to this?
If those writers were smart, they'd use this as motivation to start asking some very tough questions and demanding accountability and reform from the Barons of boxing.
As Don King said himself in trying to single-handedly overturn James "Buster" Douglas's landmark upset of Mike Tyson in February, 1990, "The evidence is undeniable and irrefutable."