Before Tim Tebow: Jon Kitna, Quarterback, Outspoken Christian, Mentor to Kids
June 11, 2012

Donald Miralle/Getty Images
He has been reprimanded by the NFL for being too overtly religious, is constantly talking about God during interviews, tries to influence teammates and others for Christ and would get down on a knee to pray after practice. Who are we talking about?
If you said Tim Tebow, you are wrong. 
Tim Tebow's name is often considered synonymous with a football player who is taking a strong stance on religion, but long before Tim Tebow was wearing eye black patches at the University of Florida referencing the Bible verse John 3:16, Jon Kitna was making the NFL take note of an overt religious message. 
Kitna was fined $5,000 by the NFL for wearing a hat with a cross on it during a post-game interview (he was a member of the Cincinnati Bengals at the time). The fine was later rescinded. Though he was fined for wearing the cross emblazoned hat in 2004, Kitna had been wearing the hat as early as 1996, when he signed with Seattle. 
Faith has always trumped football for Kitna. Larry Lage of the Associated Press writes, "Kitna gathers his teammates for a prayer circle after every practice and game, and about a dozen of them come over each week with their wives and girlfriends for Bible study."
Lage goes on to write:
Cincinnati quarterback Carson Palmer said Kitna brought teammates closer by sharing his faith.
"He's a guy you want to talk to, you want to be around, you want to listen to, because he's full of knowledge," Palmer said Wednesday. "You know he knows any religious question you can bring to him. A lot of guys have different questions, whether it be about the Bible or about any religion. You feel comfortable going to him because he's not going to give you a one-sided answer. He's going to give you the truth.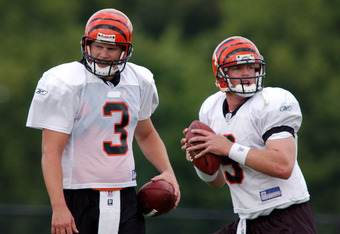 Mark Lyons/Getty Images
It is clear that Kitna has not succumbed to the plight of the majority of NFL players. Poor health, suicide, bankruptcy and divorce are all too common among current and former NFL players.  
A March 23, 2009 Sports Illustrated story by Pablo S. Torre stated that, "By the time they [NFL players] have been retired for two years, 78 percent of former NFL players have gone bankrupt or are under financial stress because of joblessness or divorce." That is not good odds if you have played in the NFL, yet Kitna has managed to not only avoid all this but also thrive after his career.
How?
It is clear that football has never been the driving force of his life; his drive comes from his faith and a sense of calling. Kitna has always had something bigger than himself. From leading Bible studies with the team to proclaiming his faith during public interviews, Kitna has always had a heart outside of football; football sort of found him.
A month before the Seattle Seahawks signed Kitna—then a star quarterback at Central Washington University—he actually applied for a math-teaching job at his old high school. Kitna never felt an NFL career was a serious possibility; he always felt his calling was in the classroom and coaching.  Sixteen years after he signed his first NFL contract, he is living out what he always felt called to do.  
Danny O'Neil of the Seattle Times writes:
Kitna spent 1996 on Seattle's scout team instead of in a Tacoma classroom. It was the starting point for a pro career as unlikely as it was impressive. He was World Bowl MVP while playing in Europe, a backup to Warren Moon and the first starting quarterback for Mike Holmgren in Seattle. He started 124 NFL games, playing for the Bengals, Lions and Cowboys after leaving Seattle in 2001. He passed for almost 30,000 yards.
Plenty of people say they won't let the NFL change them, but Kitna demonstrated that. Football was a career; teaching was a calling.
Kitna's wife Jennifer summed up everything in one statement: "I didn't marry an NFL quarterback. I married a teacher and a coach."
Author, poet and Trappist monk Thomas Mertons said, "What can we gain by sailing to the moon if we are not able to cross the abyss that separates us from ourselves? This is the most important of all voyages of discovery, and without it, all the rest are not only useless, but disastrous."
Kitna felt his calling was teaching and coaching; 16 years after he applied for his first teaching job, he has begun to live out the call. After making millions in the NFL, without needing to work, Kitna gets up early every weekday morning to teach kids math in the hope of making a difference in their lives. It is not about money—he has plenty of it—it is about calling and being part of something bigger than yourself. 
With this in place, there is a strong possibility that Kitna will not become one of the 78 percent of retirees of the NFL who are jobless, bankrupt or divorced. For Kitna, a higher calling is his guide.
Can we learn from him?