3 NFL Teams That Leave Free Agency with More Questions Than Before
June 13, 2012

Mike Ehrmann/Getty Images
Theoretically, NFL free agency (in conjunction with the draft) should improve sputtering teams—but sometimes the free agent fury can leave fans dizzy and scratching their heads.
With the most impactful players swiped from the market, it's fair to say that most free agent moves going forward will have minimal impact.
So with the dust settled, we're beginning to get a clearer picture of which teams left us with more questions than answers after free agency. Here are three.
Miami Dolphins
Despite high hopes on South Beach heading into the offseason, it's looking like Miami will be a basketball town for at least another year.
Free agency left the Fins with a thinning depth chart at several positions—and the team didn't do much in the draft round out the roster.
Shortly after free agency began, the Dolphins traded their top receiver, Brandon Marshall, to the Chicago Bears in order to free up some cap room and bid on Peyton Manning.
After losing out on the top free agent quarterback, Miami failed to make up for lost ground at receiver, and now their depth chart at wideout has been significantly downgraded.
About a week before the draft, the Fins signed free agent Legedu Naanee to a one-year contract, but it's clear he's not a Marshall replacement.
Naanee hasn't been much more than third or fourth on depth charts in his NFL career.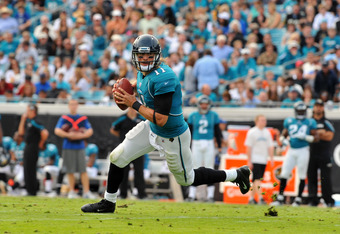 Al Messerschmidt/Getty Images
In the draft, the Fins had to make some tough choices and waited until the sixth round to select a wide receiver.
The Dolphins finally signed free agent Chad Ochocinco this week, and though he is now their most decorated receiver by far, he doesn't come close to adding what Marshall brought to the table.
No. 85 was a Pro Bowler as recently as 2009, but he struggled with New England's playbook, and it's not clear that Miami's West Coast offense will be any easier on him.
But at least he'll boost ratings for HBO's Hard Knocks, and given Miami's dicey situation, he was the best signing they could muster.
Miami also lost their leading tackler from last season when they released Yeremiah Bell.
Sure, Bell's legs were worn down, but again, Miami failed to upgrade the void left at safety. They signed former Viking Tyrell Johnson, a second-round draft pick who has performed lackluster throughout his four-year NFL career.
Jacksonville Jaguars
I hate to pick on another Florida NFL franchise, but the Jacksonville Jaguars are facing a lot more questions now than they did when they walked off the field in January.
Although they needed to address problems under center this offseason, I didn't like their choice to pick up Chad Henne early on.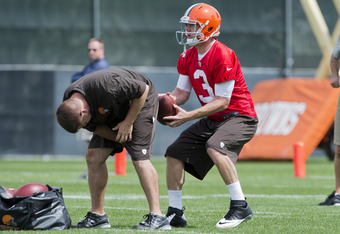 Jason Miller/Getty Images
The Jags signed Henne to a two-year, $6.75 million contract, including a $3 million guaranteed signing bonus.
Henne didn't do much for the Miami Dolphins since being drafted by them in 2008, and even if he edges out Blaine Gabbert for the starting role in Jacksonville, it won't be much of an upgrade for a team that was hoping to revamp its offense in 2012.
Obviously, the Justin Blackmon aggravated DUI was not something the Jags could have predicted, but the team hardly used free agency to buy insurance at receiver.
The Jaguars inked free agent Laurent Robinson to a five-year $32.5 million deal ($14 million of which is guaranteed), a hefty price tag for a guy who had just one good season with the Dallas Cowboys and has been injured for most of the rest of his time in the NFL.
Plus, what's the use spending so much on a receiver when Blaine Gabbert or Chad Henne will be throwing to him?
All of this, coupled with new owner Shahid Khan's bizarre recruit-by-wife free agent strategy, has kept the questions building and the answers rare in Jacksonville.
Cleveland Browns
The Cleveland Browns have a mess on their hands on the offensive side of the ball.
The team affirmed its faith in Colt McCoy, and then pulled a kindergarten-style take-back by drafting Brandon Weeden in the first round of the 2012 NFL draft.
Even if the Browns peacefully settle the ongoing quarterback drama, they will have to solve even larger riddles: who will protect him and to whom will he throw?
The Browns are running thin at guard and wideout, which will make their rookie quarterback's job even more difficult.
Greg Little will be their No. 1 receiver, but according to SI.com, he really should be considered a No. 2 guy.
In the backfield, Trent Richardson will undoubtedly put up crazy numbers from day one, but the Browns are lacking depth at running back.
Brandon Jackson hasn't played in the NFL in a year, and Montario Hardesty, who has spent most of his NFL career injured, still "has a 'hitch' in his step when he walks," which is hardly reassuring if Richardson gets injured.
The Browns should have used free agency to thicken their roster and add more depth and experience as part of their rebuilding efforts.