Cole Hamels: What Would the Boston Red Sox Have to Give Up to Aquire Him?
June 12, 2012

Rich Schultz/Getty Images
The Boston Red Sox need help in the starting pitching department.
I'm not so sure a more obvious statement could have been made to open my article up. The truth hurts. Since June 1 the team is just 3-7, dropping two of three to the Baltimore Orioles and being swept by the youthful Washington Nationals.
Offense hasn't been the problem—the team scored 41 runs over that 10-game stretch. However, the pitching allowed 43 runs in that same time. Simple math tells you that if your team allows 43 runs in 10 games, you're not going to win putting up 41 runs in that same 10 games.
This has been the story for the Red Sox all season long. They sit at third in all of baseball in runs scored with 306, while they are 28th in ERA with a 4.48 team effort.
Sitting three games under .500 is not becoming for the boys of Fenway. They've become chippy, having a couple of altercations with umpires (manager Bobby Valentine after the Nationals series finale and Kevin Youkilis after striking out to end the first game of the Marlins series) while playing poorly.
A catalyst is needed to boost this team. That catalyst could come in the form of an All-Star pitcher in a contract year.
Cole Hamels will not be cheap. In fact, he may very well be impossible to trade for. However, the Red Sox have chips that the Phillies could use right about now.
The Philadelphia Phillies are just the opposite of the Red Sox. As a team they own a 3.88 ERA, 12th in baseball with 241 runs scored, tied for 14th overall. They can pitch, but they are not getting any run support.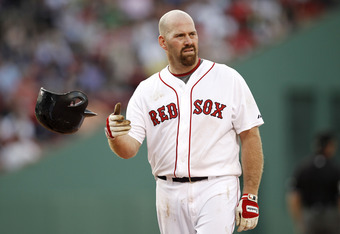 Winslow Townson/Getty Images
The best way for the Phillies to improve immediately will be to move Hamels. According to ESPN's Tim Kurkjian, the team has no desire to bring Hamels back next year, saying, "I think the Phillies do want him back, and he does have the upper hand. But if they really, really, really wanted him back, they'd be deep in negotiations now, to make sure (Hamels) doesn't get away."
Ryan Howard and Chase Utley are still weeks away from returning. Roy Halladay is on the shelf for several weeks as well. The Phillies can use three main chips to make moves happen: Hamels, Shane Victorino and Hunter Pence.
The Boston Red Sox will have plenty of players in which they could move as well. Jacoby Ellsbury and Carl Crawford are expected back by or around the All-Star break. Cody Ross will return much sooner than that.
Kevin Youkilis is being used at first base primarily, getting spot starts at third, essentially wasting the talent of Will Middlebrooks and forcing Adrian Gonzalez to play right field. Upon the return of Ellsbury, Crawford and Ross the team will have a plethora of outfielders it can add to a package (Ryan Sweeney, Ryan Kalish, Scott Podsednik or Daniel Nava, to name a few).
While the team no longer owns one of the top-tier farm systems in baseball, it does still have enough to put together something good enough to entice Philly.
It won't be an issue of money—Philly and Boston are two of the richest franchises in MLB. More so, Youkilis and Hamels share similar contracts for the 2012 season. What gets a deal like this done would be the complementary pieces. Add in a Sweeney and perhaps part ways with Jose Iglesias as well (especially considering the advancement of Xander Bogaerts).
Whatever the cost may be, the Red Sox would be foolish to pass on Hamels. If they so intend to be competitors in 2012, a blockbuster move needs to happen.