Pittsburgh Steelers: 3 Big Questions as Minicamp Begins
June 13, 2012

Jared Wickerham/Getty Images
As we all learned last season, NFL teams can live without minicamp, but that does not mean they like to. Mike Tomlin wants to make the most of minicamp this year and he expects his team to grow during this time and use it as a bridge to training camp.
"They need to display some of the things that we've talked about over the offseason," Tomlin told Steelers.com. "That is: learning the elements of football, displaying their conditioning,and showing the overall ability to finish. And then also building on the things we can't measure—the camaraderie, chemistry and the things of that nature."
This year's minicamp takes on particular importance as the Steelers are breaking in a new offense and are transitioning in younger players who are expected to take on a greater role this year in the lineup. They are also breaking in a new group of leaders as the team is without Hines Ward, James Farrior and Aaron Smith.
One player that can be counted to take on a leadership role is Ben Roethlisberger. He already has command of the huddle but will take on a more prominent role with the team this season, and that leads to the first question. 
How will the offense transition to Todd Haley's system?
Todd Haley has some lofty expectations for the offense and what he is implementing are much-needed changes.
"We want to be, No. 1, a physical group whether we're throwing it or running it. We want to be a smart group and—it's coach speak—but we want to be a disciplined group. If we're that with the guys we have out here working, at least in my estimation, we ought to have a chance to be pretty good," Haley said (via the Pittsburgh Post-Gazette).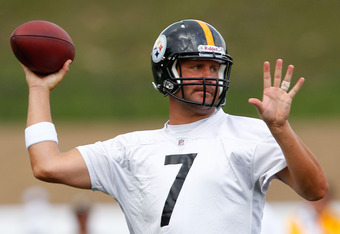 Jared Wickerham/Getty Images
However, as the team transitions to the offense, the early concerns over how Roethlisberger and Haley would get along have cooled and things are progressing nicely according to Haley.
This week is a big week for the offense as it is its final time together prior to training camp and will be breaking in new linemen into the group (more on that later).
The goals for the players will be to continue gaining an understanding of the new language and begin to improve timing and execution.
It is a given that it takes an offense longer to come together, and that will particularly be true this year with the new system in place. A positive start with the playbook will go a long way come training camp.
How will David DeCastro and Mike Adams fit in?
Learning the new offense will not be a problem for first-round draft pick David DeCastro and second-round pick Mike Adams—after all, it is their first NFL playbook.
As they arrived at minicamp, they have had plenty of studying as Sean Kugler did some remote coaching with the two prized prospects.
DeCastro, as expected, got time at right guard and Adams at left tackle, and they left an impression on Tomlin.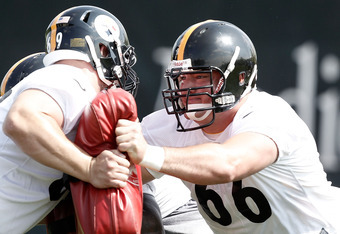 Jared Wickerham/Getty Images
"I'm comfortable with where they are and what they were able to display today," Tomlin said after practice (via Steelers.com). "Obviously they're working on a limited time. They need to hurry up to catch up."
At this point, the rookie linemen will need to demonstrate the mental part of the game. As long as they are grasping the schemes, things should go as planned to have both start.
However, if either struggle, the Steelers have plenty of other options who could start on the line.
Will Emmanuel Sanders make the most of the extra reps?
Antonio Brown demonstrated last season what hard work can do for someone. Brown used the extra reps that he got due to various injuries at the receiver position and grew exponentially from a player who lacked a strong understanding of the offense to a dynamic playmaker.
Now with Mike Wallace absent from minicamp, Emmanuel Sanders has an opportunity to turn some heads.
Sanders' first two seasons have been held back due to injuries, but he has managed 50 career receptions and has shown a good bit of upside.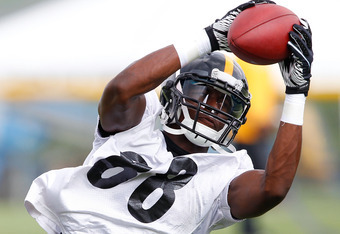 Jared Wickerham/Getty Images
As the third option behind Wallace and Brown, Sanders figures to be a major part of the offense this year. At the very least, he should match his career reception total but needs to demonstrate he can stay on the field and continue to grow as a player.
Sanders has a great opportunity in front of him to take advantage of Wallace's absence. He has been given the chance that Brown had last year, and if he develops as Brown did, you can expect great things from Sanders this season.
Follow me on Twitter @ChrisG_FC