R.A. Dickey vs. David Price: Elite Pitching Duel as Tampa Bay Rays Host NY Mets
June 13, 2012

Mike Stobe/Getty Images
When the Tampa Bay Rays host the New York Mets on Wednesday night in the second game of a three-game series, two Tennesseans will step to the mound tied with others for the most winning outings in their respective leagues. That is where the similarities end between R.A. Dickey and David Price, pitchers whose styles and journeys couldn't be much further apart.
There are important team goals represented in this pitching duel.
Dickey hopes to help his Mets improve on their 33-29 record so that they can keep pace with the red-hot Nationals, who are four ahead of the Braves and five games up on the Mets in the NL East.
Price and the Rays have less ground to make up on the Yankees; at 35-26 they are only a game out of the top spot in the AL East.
The individual achievements and contrasts between Dickey and Price provide an even more compelling storyline.
Dickey is a 37-year-old who throws the most mercurial pitch in baseball, the knuckleball. And he doesn't just loft those Dickey-dancers toward the plate, hoping that their frenetic flight paths will somehow sidestep sweeping bats.
Dickey has—as strange as it sounds—command of the knuckleball.
He generally throws the pitch harder than most of those in the small fraternity of historic Major Leaguers who blazed Dickey's now solitary knuckleball path; but even so, when Dickey goes to an occasional fastball, he doesn't break the mid-80 mph mark.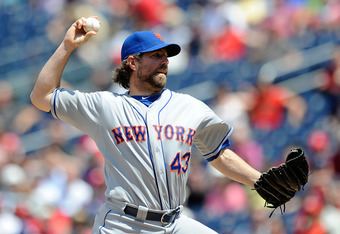 Patrick McDermott/Getty Images
Still, his variations of speeds and altitudes, and all the crazy dips, leaps and late breaks he orchestrates on the knuckleball have made Dickey overwhelmingly triumphant this season.
He has been so solid in his most recent outings that the last three teams he has faced have failed to earn a single run off him. That is 242/3 straight innings of hitter-eluding, and even catcher-baffling knuckleballs.
Dickey has racked up nine wins already, with his only loss coming in a sodden home run affair against Atlanta. That day, the Braves found the antidote to the fluttering power of a Dickey knuckleball—rain. He will not have to worry about throwing up water balloons in Tampa, though, unless the roof has unprecedented leaks. 
Indeed, it will be interesting to see how the knuckleball moves in the climate-controlled confines of Tropicana Field—the only fixed dome structure in Major League Baseball.
As the home pitcher, David Price is, of course, used to those unique conditions. Besides, he doesn't have a knuckleball. The 26-year-old doesn't need one.
Price has a diverse arsenal, and he gets movement on his cutter, slider, curveball and fastball. Also, he can get up in the mid- and high-90 mph range with his heat.
Neither has Price had the winding, vertiginous journey that Dickey rode through long stretches in the minors before late-career stability with the Mets.
No, Price has had a comparatively steady climb to Major League pitching excellence. He made his Major League debut with the Rays in 2008, and only two years later he was selected to be the American League starter for the 2010 All-Star Game.
His numbers dipped in 2011, but he was still named to the All-Star Game, and he is certainly on pace to make it three in a row this year.
Price already has an 8-3 record this season, with a stingy 2.40 earned run average.
There is talk that Dickey could be a starter for the National League in this year's All-Star game. Some speak in hushed tones about that possibility, though—presumably because it seems less spectacular to watch batters whiff at wobblers than twirl at blazing blow-bys.
But contrasts make the best matchups, and Wednesday is a rare opportunity to see two differently-styled pitchers at the top of their games, and for now at least, sitting alongside elite hurling company with the most wins in their leagues.