Tampa Bay Rays: The Statistics Behind Why Derek Shelton Should Be Fired
June 13, 2012

No matter how many times a mediocre pitcher mows down the Rays or how many bases loaded situations result in zero or one runs, there is always a vote of confidence for the hitting coach.
Put very mildly, the Rays' offense has been putrid the last three seasons, all under Derek Shelton, the former Indians' hitting coach who has had the task of working with Evan Longoria, B.J. Upton, Desmond Jennings and the rest of Tampa Bay's lineup.
It's not a farfetched assertion to say that with a consistently productive lineup the Rays would be baseball's best team. The pitching is definitely there, and once Evan Longoria returns, the defense should return to being one of baseball's best. But for Shelton's two-plus years with the Rays, the offense has been mediocre.
There is no lack of talent. Sure, this year has been difficult dealing with injuries. There have been games where Will Rhymes, Rich Thompson, Elliot Johnson and Chris Gimenez have all been in the lineup. But even with the lineup at full strength, the Rays' offense has left much to be desired.
To quantify the offense under Shelton, we must go back two more years to the late Steve Henderson era. Henderson was the hitting coach in the Rays' 1998 season, and returned in 2006. Though he isn't an offensive genius in his own right, the numbers do tell an interesting story.
First, let's look at plate discipline and balls in play:
| | | | | | |
| --- | --- | --- | --- | --- | --- |
| Year | BABIP | LD% | IFFB% | O-Swing% | SwStr% |
| 2008 | .302 | 19.4 | 8.6 | 22.6 | 8.8 |
| 2009 | .303 | 19.8 | 8.6 | 23.3 | 8.9 |
| 2010 | .293 | 17.6 | 9.6 | 27.5 | 9.1 |
| 2011 | .281 | 18.4 | 11.6 | 28.0 | 8.8 |
| 2012 | .275 | 18.9 | 12.2 | 29.1 | 9.6 |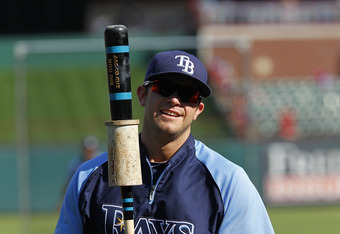 Rick Yeatts/Getty Images
In the Henderson years (2008-2009), several characteristics emerged. First and foremost, the Rays didn't chase pitches. Their O-Swing (pitches out of the zone) percentage during those years was at least four percentage points lower than in the Shelton years. The results are clear in the team's batting average and on-base percentage, both of which were significantly higher in 2008 and 2009 than in more recent years.
To see the impact of this change, one must simply look at B.J. Upton. The Rays' centerfielder has had O-Swing percentages from 2008-2012 of 15.0, 19.6, 25.3, 27.2, and 32.2. Upton's plate discipline has been dismal the last three years, and as a result, his offensive impact has diminished. After posting a .383 on-base percentage in 2008, he hasn't posted a full season above .331 since.
The other characteristic is the clear drop-off in BABIP. Batting average on balls in play is a direct function of two factors—how good the opposing defense is, and how hard the ball is being hit. Needless to say, higher line drive rates usually elicit higher BABIPs. As you can see, the Rays hit more line drives during the Henderson years, resulting in a higher team BABIP.
The impact of that can also be seen in the team's batting average, which has dropped from as high as .263 in 2009 to .238 this year and .241 last year.
What about the baseball side? The numbers tell a clear story, and watching the Rays confirms everything that the numbers show. Shelton's philosophy, it appears, is to force opposing pitchers to throw a lot of pitches. While in principle, that's a great approach, it doesn't translate on the field. Hitters are swinging at pitches out of the zone with two strikes, thinking they can foul them off to stay alive. Most times, though, the pitches are unreachable.
The results have been interesting. The Rays actually saw more pitchers per plate appearance under Henderson in '08 and '09 than under Shelton. The difference is minimal, but the point is that Shelton's philosophy has not been put in action.
It should be noted that the Rays offense is not awful. In fact, it's been in baseball's upper third since 2008. However, it could be a lot better. Just a few more runs of support over the course of the season would mean a few more wins. More important than that is consistency—the Rays will be better in the long term if they can score five runs per game instead of three one game and seven in another.
Under Derek Shelton, that just hasn't happened. It would be a shame to see some of Tampa Bay's great young arms leave via free agency never having won a championship. Unless the Rays change their approach, that might be the case. Firing Derek Shelton would be the first step in a return to a consistently productive offense, and a major step towards a world championship.