Mayweather vs. Pacquiao: Fight Pointless If Pac-Man Doesn't Avenge Bradley Loss
June 13, 2012

Jeff Bottari/Getty Images
Boxing's worst nightmare has become a reality.
Manny Pacquiao and Floyd Mayweather Jr. held the boxing world with bated breath while they kept winning fights and remained outside of the same ring. Pacquiao's remarkable run to superstardom in the last seven years, and Mayweather's entire career, were building toward the super-fight of this century.
But while Mayweather easily took care of business against Miguel Cotto in his last fight, Pacquiao went out of his way schedule a bout with an untested, yet dangerous unbeaten, looking for a signature win.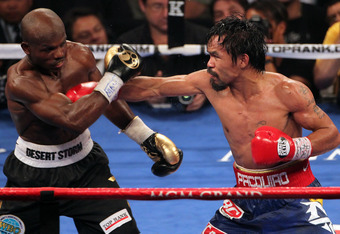 Jeff Bottari/Getty Images
It backfired, and Pacquiao left himself at the mercy of the judges against Timothy Bradley and saw his 15-fight, seven-year win streak snapped in a controversial split decision.
While a fight with Mayweather is a completely remote possibility to begin with, it would now be pointless—unless Pac-Man avenges the loss to Bradley first.
A large majority of the public believes Pacquiao was robbed by the scorecards, and should he avenge the loss in the expected November 10th rematch with Bradley, most would agree that the first fight deserves an asterisk.
But if Pacquiao doesn't avenge that loss, or isn't able to defeat Bradley, we'll have lost the only chance of a true, super-mega-fight-of-century chance between Pacquiao and Mayweather.
They've already made us wait too long to begin with, but now the fight means nothing with this latest blemish on Pac's record.
Does Mayweather fight Bradley at some point? What happens if Mayweather loses before he can fight Pacquiao? Will he use his lack of training in jail as an excuse?
Too many things are set to derail this fight, and, at this point, it's all but ruined for us anyway.
Boxing is a dying sport because of events, and non-events (Mayweather vs. Pacquiao fight), such as this.
The window for the fight we've all yearned to see is closed, and it's just a matter of time before somebody locks it.