Is the Cubs Bryan LaHair the Next Nelson Cruz?
June 20, 2012

Brian Kersey/Getty Images
There is no exact formula to knowing when a player is ready to make that leap the major leagues.  Often times, a guy may get called up too soon, and sent back to the minors to work on things with the belief that they will be called up again in the near future, while others get called up and never get that chance again.
After toiling in the minor leagues for nearly seven seasons, in which he hit over 150 home runs, Cubs first baseman Bryan LaHair garnered nothing more than a cup of tea with the Seattle Mariners in 2008 before being sent back to the minors and not being called up again until 2011 with the Cubs.
Scott Podsednik, current Boston Red Sox outfielder and a guy who waited nine years in the minor leagues before getting his chance in the majors said about LaHair:
"It takes a lot of discipline and perseverance to do what he has done.  I know what he has gone and through and you first and foremost have to believe in yourself and keep trying to find those things that will make you successful."
In 59 games this season, LaHair is hitting .295 with 13 home runs, tied with the Cincinnati Reds Joey Votto for most home runs by a National League first basemen.
At the age of 29 and a hitter with power, LaHair draws comparisons to a once minor league "lifer", Nelson Cruz.
Cruz spent the majority of his early career bouncing around from the New York Mets, Oakland Athletics, and Milwaukee Brewers minor league systems before finding a home with the Texas Rangers.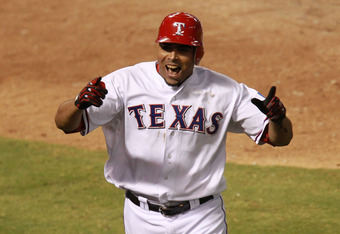 Ronald Martinez/Getty Images
When finally called up in 2009, at the age of 29, Cruz relished the opportunity, crushing 33 home runs on his way to an All-Star selection as well as a second place finish in the 2009 Home Run Derby. Cruz was named the 2011 ALCS MVP after hitting six home runs and 13 RBI's against the Detroit Tigers.
With years in the minors waiting for his chance, LaHair has finally arrived and performed despite the looming hype of the Cubs top prospect, first basemen Anthony Rizzo.  Beginning with the current series with the White Sox, the Cubs have moved LaHair to the outfield to more than likely call-up Rizzo sometime in the next week. 
LaHair's ability at the plate, willingness to adapt to a new position and a love of the game has the Cubs believing he may be a piece that they are willing to hold on to, and if given the opportunity, maybe he can make his mark as a Championship Series MVP, just like Cruz, in the future.