Harry Redknapp Set to Leave as Tottenham Plan Overhaul
June 14, 2012
Richard Heathcote/Getty Images
It's been a quiet first month and a half at White Hart Lane during the 2012 summer transfer window.  Despite the promise of signing fresh faces to push for next season's surge-and-collapse, remarkably little has happened in the Tottenham camp.
Tottenham's top target, Jan Vertonghen—who has openly admitted his desire to play for Spurs—has yet to be signed.  A new offer was penned for French forward Loic Remy, but he said earlier this summer that he would only play at White Hart Lane under Harry Redknapp (more on that in a bit).
Meanwhile, on-loan hero Emmanuel Adebayor has remained hopeful for a permanent stay at Tottenham, though it seems unlikely.  And apparently, Tottenham are interested in West Brom's Jonas Olsson, too.  Yet, none of these players are on the roster.
That's a lot of talk with little walk.
What's far more concerning, though, is that two of Tottenham's biggest stars have hinted at moves away from White Hart Lane.  Gareth Bale recently took a vacation to ponder the possibility of a Redknapp-less Spurs and Luka Modric is set to rekindle his "I want a bigger paycheck...I mean, Champion's League football" campaign.
Niko Kranjcar, aka Luka Modric's ideal replacement, is gone. Vedran Corluka, the third and final member of Tottenham's Croatian trio, wants out too. Tottenham also look set to fend off interest in Rafael van der Vaart by Schalke (fortunately, the Dutchman has said he would like to remain at Spurs).
But the biggest bombshell to hit White Hart Lane is this: Redknapp's done.
And not by his choice either.  He hired Paul Stretford, agent of England superstar Wayne Rooney, to negotiate a new contract—you know, the same one he was offered in February before his affair with England.  He even tried to play nice in the media, insisting it was Tottenham's choice and he'd be fine with whatever decision they made.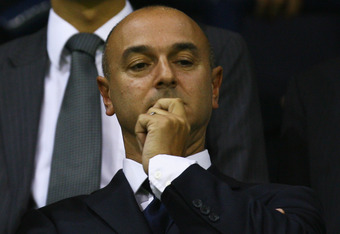 Ian Walton/Getty Images
Well, Levy's made the decision and it's the boot.
And though he's done a lot of good for the club (i.e. given it the best stretch of success in decades), I have to agree with the decision.  For all the good times he brought the club, his true colors showed when Capello vacated the England hot seat; at the drop of a hat, Redknapp all but abandoned his duties as manager.
A 10-point lead should be unassailable, even given a hiccup here and there.  But Tottenham didn't hiccup so much as vomit away their first-half success. And what was his response?
"Champions League Football is overrated."
Add to that the fact that he wanted to go after yet another aged veteran with the best of his career behind him and I have to think that Redknapp and his "jammin' to the oldies" approach to the transfer market has no place in Tottenham's ambitions.
Seriously, what are we going to do with Louis Saha, William Gallas and Ryan Nelsen all taking paychecks?
As a passionate Tottenham fan, I am very grateful for the success he has brought to the club.  The 2010/2011 Champions League campaign was incredible and the first half of last season was a masterpiece.  And in time, I may have to look back on Redknapp's three-year spell as Tottenham's peak (though I certainly hope not).
But as of now, I cannot forgive him for leaving when we needed him most. So good luck (and good riddance), Harry Redknapp.
And to Daniel Levy: I hope you know what you're doing.