Gerry Weber Open 2012: Players Who Need Strong Showings in Wimbledon Tuneup
June 14, 2012
Clive Brunskill/Getty Images
With the start of Wimbledon just a little over a week away, men's tennis stars are trying to hone their grass-court skills this week in the Gerry Weber Open in Germany.
Not every top player has chosen to compete, but the ones that have will obviously want to turn in a strong performance so they are prepared for the season's third Grand Slam.
If a player performs poorly it doesn't mean that they have absolutely no chance at Wimbledon, but it certainly wouldn't bode well.
Top players like Novak Djokovic and Andy Murray are sitting this tournament out, so things aren't going to get any easier at Wimbledon as the field will be absolutely stacked compared to the Gerry Weber Open.
Here are three players who are preparing for Wimbledon this week and will need to be on their respective games to ensure success at the All-England Club. 
It is well established that clay is the worst surface for Roger Federer, as he has won the French Open just once. While he made the semis at Roland Garros last week, he was tidily disposed of by Djokovic. Grass is Federer's specialty, though, so he is probably extremely excited for Wimbledon.
He will have to first perform well at the Gerry Weber Open, as he is listed as the No. 2 seed in the tournament. There are several solid, mid-range players that Federer will have to go through, and they should prepare him well for Wimbledon.
Federer has played on grass so many times that he could probably sleepwalk into Wimbledon and still play well, but with Djokovic and Rafael Nadal having clearly surpassed him in tennis' pecking order, he needs some confidence heading into the biggest Grand Slam in the sport.
Winning this tournament would most definitely put him in a good place and it may make him believe that he can beat Djokovic and Nadal en route to another Wimbledon title. 
Rafael Nadal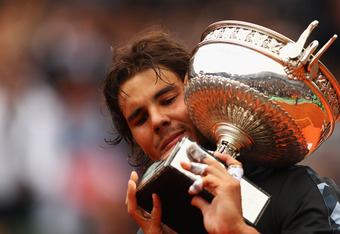 Clive Brunskill/Getty Images
Fresh off winning the French Open once again, there will be no rest for Rafael Nadal. Rafa is the No. 1 seed in the Gerry Weber Open and he will look to keep his momentum rolling as he transitions into Wimbledon.
Nadal is the king when it comes to clay, but on grass he is still chasing Djokovic and is essentially on equal ground with Federer. Winning the Gerry Weber Open won't necessarily set him apart from his closest rivals, but it will give him some good vibes moving forward.
The main thing to look out for is whether he and Federer meet in the finals. Rafa and Fed are clearly the two top players in this tournament and are on an obvious collision course. Unless one of them really falters and disappoints, they're going to give fans a possible Wimbledon preview.
Whoever loses that possible match will still be in good shape and will be a top contender at Wimbledon, but the winner may receive that extra little lift that propels him to the title. 
Tomas Berdych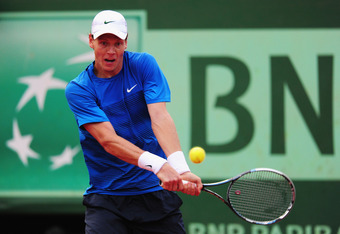 Mike Hewitt/Getty Images
There is a very defined top four in men's tennis right now in the form of Djokovic, Nadal, Federer and Murray. There are plenty of other talented players outside of them, but few receive the notoriety that the big four do.
One of those players who is on the outside looking in is Tomas Berdych. The Czech star has as much talent has anyone, but inconsistency has plagued him and prevented him from routinely competing with the game's elite players.
In spurts, Berdych has had success against the top-ranked players, though, so you never know when he might go on a run.
Berdych is considered one of the favorites at the Gerry Weber Open, as he is seeded third, but in order to win the tournament, he will have to beat both Nadal and Federer in all likelihood. That may seem like a long shot, but strange things tend to happen in these non-Grand-Slam tournaments.
If Berdych is able to knock off both or even one of the favorites this week, then he will be a force to be reckoned with at Wimbledon.
Follow @MikeChiari on Twitter