Charlie Villanueva: Dominican Team Debacle Should Be Red Flag for Pistons
June 14, 2012

For three years Charlie Villanueva has been the poster boy for free agency failure in Detroit. Given recent events, that reputation is only getting worse.
The Pistons signed him to a $35 million deal three years ago and he's done nothing but sulk and under-perform since. He also missed most of last year with a lingering ankle injury and, when he finally returned, was ineffective. His averages with Detroit have been well below his career numbers.
Now, more negativity. Earlier this week it was announced that Villanueva was cut from the Dominican Republic national team that will try to qualify for the Olympics.
Coach John Calipari offered the following explanation for the dismissal:
Charlie was not in good form when we saw him. He was overweight, and unfortunately, we could not slow down the entire team, and it was a decision taken collectively. Last year, Charlie behaved really well with us and his only problem was his weight.
Villanueva, as is customary for professional athletes, responded via twitter. Although his photo of himself on a scale is quite compelling, it does nothing to alter the facts. Regardless of his shape or weight, he was cut.
Specifically, a seven-year veteran of the NBA was cut from his national team. With a roster of players the likes of Francisco Garcia and Josh Asselin, you'd think they'd want to hang on to a player like Villanueva.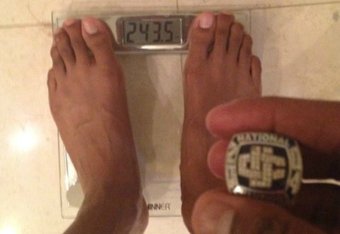 Not so. It brings to mind one question: If a player has no value on a team like Calipari's squad, then what does he have to offer an NBA team?
That should be a question that Joe Dumars is asking himself right now.
The honest answer is: Nothing. At least not in Detroit. Maybe Villanueva can resurrect his career elsewhere, but like ex-Detroit Tiger Brandon Inge, it just isn't happening here. Dumars and the Pistons need to cut their losses because it isn't going to get better.
Even if he has a productive season at or above his career averages (12.5 points and 5.6 rebounds a game), is that enough to make fans forget the past three years and for the Pistons to reconcile the $16.5 million they owe him? Probably not.
The most painless solution is amnesty. The Pistons still have their NBA "get-out-of-jail-free card" available to them. They would still have to pay him, but at least the salary would be off their books.
More importantly, Villanueva would be off of their team.
Ben Gordon might be the most popular amnesty target because of his bigger two-year price tag, but the negativity surrounding Villanueva outweighs that. Gordon contributes more and he's said and done the right things even when his play has been subpar.
He's simply more valuable to the Pistons right now.
Villanueva's presence also takes playing time away from younger Pistons players like Vernon Macklin who showed promise during his dominating stint in the D-League. If he's going to have a future with this team, the Pistons need to see him play against NBA-level talent. Five minutes a game isn't going to cut it.
Using amnesty on Villanueva might be an admission of guilt by Dumars, but so what? It's no secret that the signing wasn't one of his best moves. One could say it is even worse to continue playing Villanueva over and over again while expecting different results.
That's the definition of insanity and that is exactly what the Pistons are doing if they keep him another year.