Matt Cain's Perfect Game Is a Testament to the San Francisco Giants Front Office
June 14, 2012
Jason O. Watson/Getty Images
I have written a lot about the failures of Giants General Manager Brian Sabean and his staff over the past few years. The old saying that familiarity breeds contempt is a truism, but after Cain's performance last night, Sabean, his top lieutenant Dick Tidrow, pitching coach Dave Righetti and the Giants team of scouts deserve recognition. 
No pitcher has ever been better than Matt Cain was last night, with the possible exception of Sandy Koufax in 1965 and Kerry Wood in 1998.  Cain threw the 22nd perfect game in baseball history, striking out 14, tying Koufax for the record for most strikeouts in a perfect game.
While the Sabean regime has been far from perfect, one thing has become abundantly clear: the San Francisco Giants are the best in the business at developing pitching.  Sabean and his staff have drafted and developed the departed Jonathan Sanchez and Zack Wheeler, and current Giants Tim Lincecum, Sergio Romo, Brian Wilson,  Madison Bumgarner and last night's hero, Matt Cain.
Last night I went back and read the scouting report on Cain from ten years ago when the Giants selected him with the 25th pick of the 2002 draft.  Repeatable delivery....late movement and life on the fastball....poised....89-94 on the fastball....big frame...four pitches.  Here's one of the Giants scouts on Cain from the 2002 article on him by Josh Rawitch from SFGiants.com:
"The kid caught your eye right away because he repeated his delivery," said Lee Elder, who scouted Cain. "He throws strikes, and his ball had a lot of movement. I think the thing that was an asset, unlike most high school kids or even college pitchers, is that he got a little bit better every time out.  He has a chance, with his delivery being so repetitive, to go a long way."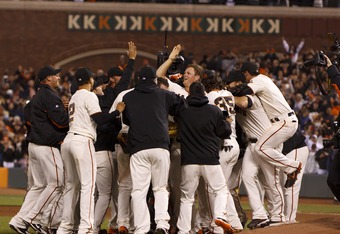 Jason O. Watson/Getty Images
Cain threw the perfect game last night, but Elder and the Giants front office delivered the perfect scouting report on Cain ten years ago.
Elder said that Cain improved every time out, and throughout his professional career, Cain just keeps getting better every season, despite losing stuff and gaining mileage on his arm.  When he first came into the big leagues, he had three more miles per hour on the fastball than he does now, but he was basically a two-pitch guy without great command or control.
Eight years later, his fastball velocity is just average now, but he's developed a better changeup and  a two-seam fastball to compliment the four-seam fastball and slider, which were his staples when he first came up.  
The control has improved dramatically as he has cleaned up his mechanics. His walk rate has gone from nearly 11 percent all the way down to a career low 4.4 percent this season according to FanGraphs.  Despite the loss in velocity, his strikeout rate is a career-high 26 percent this season.  
His command is now impeccable.  Cain is in total control on the mound.  His stoic demeanor, which he's always maintained so well, is now complimented by equally calm mechanics with no wasted motion. 
The demeanor and the clean delivery go perfectly with a pitcher that now has over 1,400 innings of experience despite being only 27-years-old.  Cain has lost stuff, but he's developed command, control, additional pitches and the know-how—that knowledge of how to pitch and get big league hitters out that only comes from experience.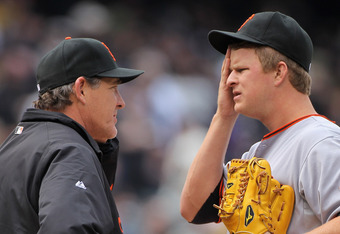 Doug Pensinger/Getty Images
Chris Snyder launched a sure homerun in the sixth inning, only instead of going ten rows up the stands, the ball suddenly died at the warning track, falling into the leaping glove of Melky Cabrera. 
My wandering mind was suddenly replaced with a sharp focus from that point on.  In the seventh inning, Jordan Schafer launched a ball deep into the right-center gap to break up the perfect game, only journeyman Gregor Blanco came sprinting over from right field to make an incredible diving catch to save the day.  From there, perfection was inevitable. 
When Jason Castro grounded out to Joaquin Arias to end the game, the celebration began.  Baseball is an individual sport disguised as a team game.  The illusion of the team is what makes following baseball meaningful to me. 
I root for the San Francisco Giants because I grew up and live in a suburb of San Francisco.  Sure, I get attached to individual players, but the common theme in my fan-hood is rooting for the orange and black laundry, regardless of who is wearing it.
That's why the celebration is what stands out for me—25 grown men, 25 teammates pouring out towards the mound, running and screaming in perfect unison with 42,000 crazed fans, and millions of fans across the world watching at home.  
Matt Cain took a typical nothing Wednesday in the middle of baseball's 143rd summer and made it historic.  
No, he made it perfect.