2012 Kansas City Royals Pitching: As Bad as It Looks?
June 15, 2012

I can't remember a time over the past couple of decades when the Kansas City Royals opened the season and I felt any degree of confidence that the pitching staff would find ways to get guys out.
I have no faith and no expectations, therefore I cannot be disappointed by poor performance, right? Wrong…I usually am.
No matter how poorly I expect the Royals' rotation to perform, they always manage to do worse. It's like a sick joke.
Eight of the past 10 seasons leading up to the 2012 campaign have ended with Kansas City in the bottom five MLB teams in ERA. Only in 2007 and 2008 did they finish higher than 26th in the majors and not once in the top half of the league.
From 2002 through 2006, the Royals team ERA was over 5.00 every season. You didn't read that wrong—five straight seasons of a 5.00-plus ERA. 
And while the team ERA has improved (along with the rest of MLB), it is nowhere near what anyone would call "acceptable", much less "good."
The history is staggering, but what about now? Should Royals fans hold out any hope that 2012 will end any differently? 
Since the Royals' bullpen is arguably one of the best in the game, we only need to break down the statistics by the starting pitchers. That's the likely explanation if there are numbers here that seem out of line with what you have heard.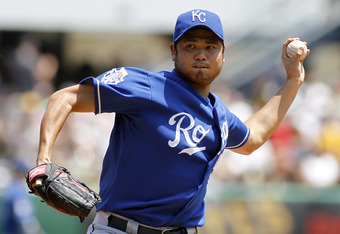 Justin K. Aller/Getty Images
ERA
The starting pitching through June 14 is sporting a cumulative 4.96 ERA, good for second to last in the AL and 28th in the majors.
Often times, ERA is not a great indicator of the way an individual pitcher or staff has performed, but in this case, around 5.00 seems spot on. 
I will grant that ERA can be greatly impacted by a few dismal performances and that is clearly the case with the Royals, but game in and game out, their starters give up far too many runs.
Innings Pitched
Kansas City starters have pitched a grand total of 310.0 IP so far in 2012. This puts them dead last among all MLB teams. This averages out to just over five innings per start. 
As I mentioned, the Royals have an outstanding bullpen, so one might suggest that the quicker they get to those arms, the better. An average of five innings per start, however, is just embarrassing, and one has to wonder how long the Royals young relievers can survive throwing this many innings.
Kansas City has yet to log a complete game in 2012. In fact, last night, Luke Hochevar went 7.1 innings, marking the longest outing by any Royals starter this season.
If the Royals hope to contend at any time in the near future, they will need to acquire or develop some starters who can take them a little deeper into games on a consistent basis.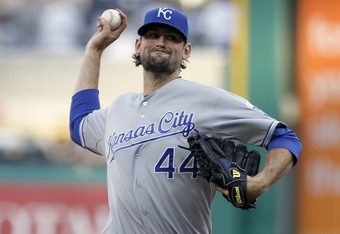 Justin K. Aller/Getty Images
BAA (Batting Average Against) and OBP (On-Base Percentage)
Again, one has to scroll down near the bottom of the page to locate Kansas City in this category. Opponents are batting a salty .276 vs. Royals starters to this point in the season, good for the third highest in the league.
Opponents' OBP is also ranked 28th in the league at .351. Statistical analysis has shown that stranding runners on base is not a skill, per se. The league strand rate is around 70 percent and is consistent year to year. Thirty percent of baserunners score—period.
More baserunners yields more runs, and the Royals starters must find a way to allow fewer men on base.
Strikeouts
With as few innings as Royals starters have accumulated, the strikeout total is expectedly near the bottom of the league. Kansas City starters have struck out opponents 232 times. Only Cleveland and Minnesota rank below the Royals.
The strikeout, while "boring" and "fascist" according to the Bull Durham's Crash Davis, is the pitcher's greatest weapon.
As many opponents as the Royals starters put on base (see above), they simply must strike out more batters if they wish to avoid the big innings that have plagued them all season long.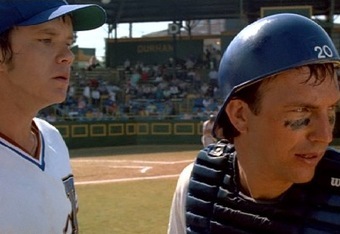 HR Allowed
Finally, one category that could be seen as a positive. The Royals starting pitchers have allowed the fewest home runs in the American League.  Again, however, one has to take into consideration that they have also pitched far fewer innings than most staffs in the league.
The bad news? As a staff (bullpen included), the Royals have a nearly unsustainable HR/FB rate of 8.6 percent. More of these fly balls are eventually going to leave the yard, and the ERA will likely increase.
SB Allowed
While this stat is certainly more often a reflection on the catcher than the pitcher, I thought it was worth mentioning that opponents have 40 SB against Royals starting pitching this year—the highest such total in the majors.
The same disclaimer applies with regards to total IP, but this time, it makes the number more staggering. Forty SB in 310 innings is simply mind-blowing. Allowing opponents to reach base is one thing; giving them an additional base only compounds the issue. 
Thankfully, Kansas City's catcher of the future, Sal Perez, will return soon after recovering from knee surgery due to an injury in spring training. This number should improve significantly when Perez is back behind the plate.
Overview
I could go on. The overarching theme here is clear. In nearly every statistical category, Royals starters rank near the bottom of the league.
While many believe Kansas City's offense will eventually come around and produce runs, it likely will not result in significantly more victories unless the starting pitching improves greatly.
Royals GM Dayton Moore has not shown any willingness to go out and acquire quality starting pitching, and the arms Kansas City has drafted under his leadership have simply not panned out at the Major League level. I strongly believe if he doesn't change his thinking, the Royals will continue to be mired in mediocrity.