College Baseball World Series 2012: Players Who Can't Disappoint in Omaha
June 15, 2012

Ronald Martinez/Getty Images
The College World Series starts today, and there is no shortage of headlines. From South Carolina looking for a three-peat to upset minded Stony Brook, there is sure to be a lot of excitement in Omaha.
All eight of the teams in the World Series—Florida, Arkansas, UCLA, Stony Brook, Kent State, South Carolina, Florida State and Arizona—have great athletes that have been drafted by Major League Baseball teams. Before they start their professional careers though they would like to bring a championship to their school.
All of these teams rely heavily on their star players, and often how the team goes is based on how well they play. Here are five players to watch in Omaha, and who must play well if their team is going to win it all.
5. Jeff Gelalich, OF, UCLA
UCLA, with its 47-14 record, heads into the World Series considered by many to be the favorite. The Bruins are led by their good pitching and the outstanding play of Gelalich.
Gelalich has a .365 batting average, .485 on-base percentage, 11 home runs and 15 stolen bases. He is by far the best offensive weapon that UCLA has. He has almost half of the team's 23 home runs on the year. With not much power coming from the rest of the lineup, it is important that Gelalich hits the ball well if UCLA wants to win the title.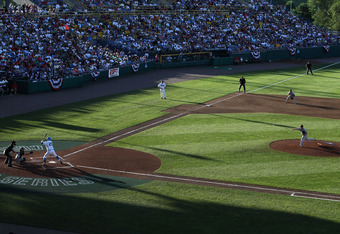 Christian Petersen/Getty Images
4. Matt Reynolds, 3B, Arkansas
Arkansas had a solid season with a record of 44-20 and has played solid SEC competition all year which will have the team prepared for Omaha.
The Razorbacks are led by Reynolds, who has a .338 batting average, seven home runs, 43 runs batted in and 15 stolen bases. He is an all-around player for the Razorbacks, and he is the leader of the team. If Arkansas is going to win, he is going to have to lead the offense.
3. Travis Jankowski, OF, Stony Brook
The Stony Brook underdog story has been great so far this season, and the Seawolves don't want it to end. They are the only team in the World Series that has over 50 wins this season with 52, but Stony Brook has played easier competition than most. Still, with seven players on the roster that were drafted into the MLB this year, the Seawolves can't be overlooked.
Jankowski was the highest of those draft picks, taken with the No. 44 pick by the San Diego Padres. He has a crazy .422 batting average and a .485 on-base percentage to go along with it. His big bat and solid speed have to be a big factor in Omaha if Stony Brook wants to have a shot at finishing its Cinderella story with a championship.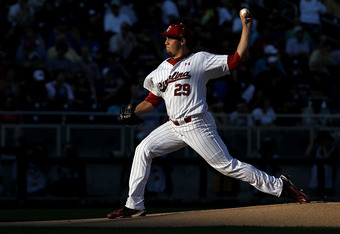 Ronald Martinez/Getty Images
2. Michael Roth, LHP, South Carolina
Roth is the only pitcher on the list—not because there aren't many good ones—but because he is the most important one. Two time defending champion South Carolina has won 11 straight games in Omaha over the last two years, and with a 45-17 record so far this year, the Gamecocks look poised to do it again.
As a senior, Roth has been with South Carolina for all of it. In his career, Roth has a staggering 6-0 postseason record. Followed up by a 7-1 overall record this year and a 2.50 earned run average, Roth will not feel the pressure that some of the other pitchers might. Look for him to have a good World Series. He'll have to if the Gamecocks want that third straight title.
1. Mike Zunino, C, Florida
Zunino was the first college player selected in this year's draft, taken with the No. 3 pick by the Seattle Mariners. It wasn't surprising, as Zunino has had a great career at Florida.
This year, Zunino has a .322 batting average, 19 home runs and 64 runs batted in. That is fantastic production, especially for a catcher. Zunino's importance is not just offensive but also defensive. He is the captain and has lead his team to a 47-18 record. How well his pitchers perform will be based o how he handles them. Look for Zunino to have a great World Series as he tries to bring the National Championship to Florida.