Northwestern's John Shurna Hopes to Break Another Wildcat Curse: The NBA Draft
June 15, 2012

Andy Lyons/Getty Images
It was a Saturday night in Evanston, Ill., and the crowd in Welsh-Ryan Arena was buzzing.  Northwestern was playing Minnesota in a pivotal Big Ten matchup with NCAA Tournament implications, but that did not matter at the moment. 
Senior John Shurna was within reach of the school's all-time scoring record, and after being silent on the offensive end more than 16 minutes into the game, he had exploded for a dunk, two three-pointers, and a lay-up in a two-minute time span. 
Finally, the moment that had been in the works for four years was upon the crowd.  Midway through the second half, Shurna pulled up several feet behind the top of the key and drilled a three. 
The crowd went nuts. 
The Draft
On June 28 David Stern will step up to the lectern under the hot glare of stage lights and cameras and will call 60 names.  No more.  No fewer. 
Shurna—the most talented player to come out of Northwestern since Evan Eschmeyer and probably ever—is still mired in Northwestern's history of basketball mediocrity as he attempts to make it to the fabled lands of the NBA. 
Fans will be holding their breath to hear the name of the player that captivated Welsh-Ryan Arena for four years: the player who they lauded when he sunk a three-pointer against Minnesota on that Saturday night. 
Will Shurna be the first Wildcat drafted into the NBA in over a decade?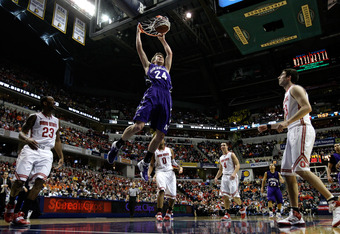 Andy Lyons/Getty Images
Why not?
No one has accused Shurna of having the wrong attitude in his approach to the game of basketball.  When he broke Northwestern's scoring record, he gushed about how happy he was that his team won the game.  When Bill Carmody speaks of his star player, he stresses that Shurna loves the game and improves by simply playing, constantly. 
Shurna's pre- and post-game acumen carry over to the court where his high basketball IQ leads to stellar off-ball movement, open shots and solid interior help defense. 
At the end of the day, the strongest aspect of his game and what he will be used for at the next level is his ability to score in any situation.  As an honorable mention All-American and a first team All-Big Ten selection, Shurna averaged 20 points per game and led the conference in scoring. 
He has the ability to score from the inside where he can shoot with either hand and has strong body control that allows him to spin and pivot past defenders.  With his height, he provides a big target on quick off-ball cuts toward the basket. 
The first Wildcat to break 2000 points, much of Shurna's work was done from the perimeter where he hit 95 threes during the season, first in the conference.  He capped the season off by taking home the crown at the three-point shooting contest. 
Defensively, Shurna is first in school history in blocks and his 6'9" frame is tall enough to be an effective small forward.  When Carmody ran the small lineup, Shurna even played center where he battled with the bigs in the Big Ten. 
Shurna's height, basketball IQ and shooting ability combine to make him a scoring threat viable at the next level. 
Here's why not.
The draft is a place for the Anthony Davis and Perry Jones III-type players of the world.  They are freakishly tall and at the same time scarily fast.  They never seemed natural in the college game because their pure athleticism was already on the NBA level. 
Shurna is a good player—maybe even a great player—but he is not enough of a pure athlete to be drafted. 
His size and strength are major concerns for the NBA where he would be pitted defensively against players able to easily overpower him. 
In addition, he is lacking in speed and smooth footwork.  The first step he had in college was due to his height and will be lost in the NBA to faster players. 
Without that first step on defenders, he will need to rely more heavily on his ball handling, an area that was never a strength. 
While Shurna plays decent defense in the paint, his ability does not translate to the perimeter where he is often slow to get in the face of a shooter and where much of the NBA game is played.  Even though defense is not a premium in the NBA, he will need to extend his shot blocking to outside shooters in order to make an impact. 
Shurna's main obstacle is finding a niche where his specific skill set fits.  He can contribute in a major way on offense, but other players can bring similar talents with more athleticism and finesse. 
The future
Shurna is a passionately competitive scorer who brings a combination of smarts and modesty that would make him a positive addition to any team.  However, he is one step behind in the raw talent necessary to be drafted to the NBA. 
That being said, the player who sat red-eyed on the bench next to Drew Crawford after big losses and boasted a smile that made Welsh-Ryan's bright lights unnecessary after big wins is not done with basketball. 
As the Chicago Bulls use Kyle Korver—a quick player with lackluster defense but a dead on shot when coming off screens—other teams could use Shurna.  
While there is concern surrounding his unorthodox shooting style—he pushes laser-like shots from his chest—it should not be a make or break point for his draft stock. 
Shurna was rarely blocked in college because the release is very fast, and if he is used off screens, then there should not be a defender directly in his face.  The delivery helped him to shoot .440 from behind the arc his senior year, so the extended three-point line in the pros could actually be his friend. 
In fact, going undrafted may not be a terrible situation because Shurna would automatically become an undrafted free agent who could sign with whichever team needed him.  A summer league deal in the D-League at the very least should be in the picture. 
If he does not get picked up by the start of the season, he could continue in the D-League or leave for Europe where the possibility of making it to the NBA is lower, but the pay is higher. 
And who knows, maybe Europe could see Shurna playing with Michael "Juice" Thompson once again.  A little "John and Juice" never hurt anybody…except maybe Minnesota on any given Saturday night.