Sweden vs. England Euro 2012: Wild Win Hides Serious Issues for Three Lions
June 15, 2012

Martin Rose/Getty Images
Well, that was wild. 
The English may have beaten Sweden in truly dramatic fashion, rallying from a late deficit with a pair of wonder goals from youngsters Theo Walcott and Danny Welbeck to take a 3-2 victory and their first win over their Nordic neighbors in a competitive match in history, but that doesn't mean the Three Lions are suddenly favorites to bring home the whole enchilada or even make a run through the knockout stage to the final. 
If anything, the dramatic win was evidence that this English side still has serious issues that must be addressed if they hope to find continued success in this tournament. 
Don't get me wrong; there was a lot that the English did well in this match, and plenty that manager Roy Hodgson can build on going forward. For the first time under their new manager, the Three Lions looked supremely confident on the attack, harassing the Swedish back line off the counterattack from the opening kick.
Their wings looked rangy and dangerous, as Ashley Young used his speed to torture the Swedes and create space for teammates.
Perhaps most importantly of all, the offense had a genuine rhythm and flow to it, as midfielders and forwards had a better cachet in this match than they've had in almost any other contest previously.
Strikers Andy Carroll and Danny Welbeck shone, and sub-winger Theo Walcott showed great touch on the ball (a major change for him). With the offense clicking like they were today, this team is going to be a dangerous opponent for anyone.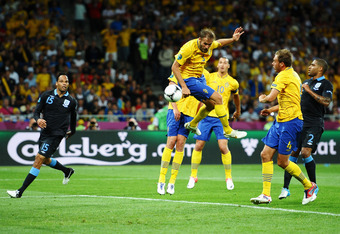 Laurence Griffiths/Getty Images
That being said, there were serious causes for concern.
The Swedes had plenty of golden opportunities, buoyed by an English defense that alternated between brilliant and chaotic. Hulking forward Zlatan Ibrahimovic was quiet in this match from a scoring standpoint but struck fear into the hearts of English defenders and fans alike on several occasions with his thunderous shots.
On top of that, while the Three Lions looked better in the midfield, their defensive acumen in the middle of the pitch left much to be desired, as Sweden were able to slice and dice into the defense. 
But, the biggest concern for England—as always seems to be the case for this team—was their play on set pieces.
In a word, it was lousy. While the first Swedish goal was due to a collapse after the initial chance on a set piece (the defense seemed lost as to what they were supposed to be doing or who they were supposed to be marking), the second goal was disastrous. 
On a free kick from just outside the box, the Three Lions defense allowed midfielder Olof Mellberg free and barely made an effort to prevent him from taking an unimpeded, headed shot past a frozen Joe Hart. 
It was a troubling moment for Hodgson to be sure, particularly since it became clear at that juncture that they'd lost control of the match in every conceivable way.
That kind of inconsistency and lackluster defending is a sure way to be sent home. Remember, Sweden is hardly a team at the level of Spain, Germany or even Russia; other teams would have shredded the English with a loss of focus like the one they had in the second half. 
If England wants to make an impact beyond the group stage of this tournament, Hodgson must tighten up his team's defensive formation and set-piece play. There are serious issues there, and they have to be dealt with soon if this team wants to keep advancing. 
England aren't a lost cause.
There's the talent to be a skilled defense, and with the offensive players they have, their attack will remain potent. They showed a ton of grit in rallying from a deficit previous teams would have crumbled under, and that kind of mental fortitude will serve them well going forward.
But don't mistake this win for a sign that England are suddenly a lock to make a deep run in the tournament. They still have plenty of work to do to get to that point.