U.S. Open 2012: What's Making the Difference in Tiger's Game?
June 16, 2012

Stuart Franklin/Getty Images
Seeing the name Tiger Woods emblazoned upon the top of a U.S. Open leaderboard is a sight sports fans haven't seen for four long, lonely years. But Friday at Olympic Club, the site of the 112th U.S. Open, Woods displayed just how important managing this golf course is, rather than overpowering it, and is now tied for the lead after a second-round, even-par 70.
When I say "manage," I mean think through, visualize and execute. It's like a chess player strategizing his every move—anticipating the effect each has on the next and then acting boldly.
On a tangible level, Tiger is playing fairway-first golf. This is an absolute must on a course like Olympic; not only is it built on a massive hill, but also, the design of the holes intentionally goes against the grain. For example, you could be looking at the hole from the tee box and see that the fairway moves from right to left. However, the slope of the hill moves from left to right, meaning if you don't hit your tee shot with exact precision, prepare to find your ball buried in brutally thick rough grass.
Tiger's solution has been to eliminate the liability as much as he can by hitting his driver far less—a lesson Bubba Watson and Phil Mickelson refused and for which they are paying severe consequences. The game plan is working well for Woods, who hit 10 of 14 fairways in his first round. And after Day 2, he is hitting just over 73 percent of the fairways at Olympic and leading the field in driving accuracy this week, a stat that's undeniably cause for his perch atop the leaderboard.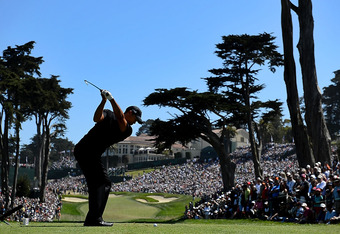 Stuart Franklin/Getty Images
Remember, Woods is a ruthless competitor. He knows this track like the back of his hand and understands that between the cut and slope of these fairways, there's a lot of potential for the ball to run out. That's why he's hitting his patented "stinger," a compressed golf shot that he starts super low to the ground and then darts slightly upward like a bullet, staying below the wind and out of trouble. 
It's proving lethal so far.
Besides his execution off the tee, Woods' touch on the greens has also been spectacular. These greens are so finely trimmed that it's almost become unfair how fast they are. Putting on a green at Olympic is like putting on a table top—you might as well start praying once the ball leaves the club face.
However, Tiger—who has always excelled on fast greens (hello, four green jackets)—is managing them with the patience of a monk. He's analyzing the angles, picking his spots and trusting his stroke.
On more of an intangible level, though, there's been a calm about Tiger the last two rounds that seemed to be sneaking up on us at his win two weeks ago at Memorial. His rhythm is neither hurried nor sluggish, but rather he emanates control from tee to green.
It looks like he's finally nailed down that convergence of his mental and physical games, which has been elusive in his last 15 major attempts.
Whether or not he can sustain that focus of mind and body over the next two rounds is contingent upon executing his game plan. But one thing is certain: Woods is 14–1 when going into the final round of a major with at least a share of the lead. Any takers?