San Francisco Giants Pablo Sandoval's Weight Is Pulling Down the Giants
June 16, 2012

Thearon W. Henderson/Getty Images
First of all, I will tell you that I'm just as much a Pablo Sandoval fan as anyone. However once again, his weight is becoming an issue for the San Francisco Giants. 
Tonight's game against the Seattle Mariners was a good example. 
In the eighth inning, Ryan Vogelsong entered with a shutout going, the Giants leading 4-0. Two balls were hit to Sandoval that put the Seattle Mariners back in the game. Fortunately for the Giants they were able to hold on and win. They may not be so lucky next time. 
With runners on first and second, Casper Wells hit a ground ball to Sandoval's left. 90% of the third baseman in the game would have at least gotten one out and most would have gotten a double play. Sandoval let it go under his glove for a single and the bases were loaded. If Sandoval could have turned the double play (and I have no doubt that Sandoval's replacement while he was hurt, Joaquin Arias, would have done just that) there would have been two outs and a runner at third. 
After a force out scored one run, Franklin Gutierrez hit another double play grounder to Sandoval. Put Pablo bobbled the ball and was just able to get the force at second. So instead of the end of the inning, the Mariners had their second run. 
While Pablo was on the disabled list he put on a great deal of weight. It appears to me that he added a good 20 to 25 pounds in the month plus he was out. Manager Bruce Bochy even commented on it and took Pablo to task for his bad conditioning. It's unusual for Bochy to say anything publicly about his players. But it's obvious he felt he needed to make a point.  
Pablo Sandoval is a very gifted ballplayer. He came in as a rookie in 2008 and in a partial season turned everyone's heads with a .345 average. In his first full season, 2009, Pablo batted .330 with 25 homers and 90 RBI's.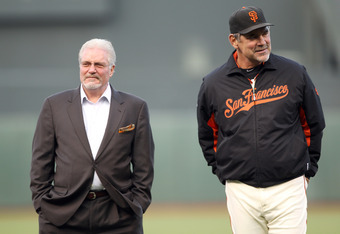 Ezra Shaw/Getty Images
Of course he fell off in 2010, after gaining a great deal of weight, batting only .268 with 13 homers and 68 RBI's. In the postseason he became an afterthought, as the Giants steamed ahead to win it all, despite Sandoval. 
Last season Sandoval got in great shape, after an ultimatum from General Manager Brian Sabean, batting .315 with 23 homers and 70 RBI's in only 117 games, after recovering from his first hand surgery. He made the All-Star team and was one of the Giants few bright spots at the plate.
He was also a very good defensive player, coming in second in the Gold Glove balloting at third base. 
He came back in pretty good shape here in 2012, but had obviously put on a few pounds. His defense was inconsistent if not altogether bad to start the season, before his latest broken hand. 
But since coming back from the injury, Pablo has looked like the big fat Panda once again at third base, with virtually no range to get to balls to his left. It was funny, but Mike Krukow, as he tends to do for Giants players, made a couple of excuses for Sandoval tonight, first saying the base hit was a tough play. It wasn't. Any Major League third baseman should make that play.
He also talked about Pablo having to shake off the rust from his layoff. Funny but that didn't seem to be an issue last year when he was lighter. Then Jon Miller came on to start the next inning and totally contradicted Krukow, saying Pablo should have made both plays. He was absolutely right. I'll repeat myself, Arias would have handled both plays flawlessly, just like he did when Pablo was out. 
I'll tell you one thing, Matt Cain is certainly glad that Bochy inserted Arias at third in the ninth inning of his perfect game. Because there is almost no way Sandoval gets to that grounder for the final out. 
So what to do about Sandoval? 
First off, Bochy and Sabean need to give him yet another ultimatum. Yes, Pablo is hitting the ball well, but the National League doesn't have the DH. And right now, Sandoval is a liability in the field. 
Tell Sandoval that if he doesn't lose weight and keep it off, that he will be on the bench until he does. 
Second, for the next eight days the Giants will be in American League parks. Put Sandoval in as DH and leave him there until there until the Giants play in an NL park again. Insert Arias at third and leave Crawford at short. That will give the Giants a solid team, both offensively and defensively. 
Long term Sandoval has to stop eating his mother's cooking or whatever is causing him to gain the weight. He seems to do well in the offseason, but during the regular season he puts weight on, especially when he isn't playing.
Have someone go to the grocery store with Mom and make her buy her son lots of vegetables, lean meats and fish. Of course, I'm been somewhat facetious here, but there's a problem and it needs to be addressed. 
Pablo Sandoval is now 25 years old. He'll be 26 in August. Time to grow up Panda!
You're a professional athlete for god's sake. Start acting like one. Take care of your body or you're going to eat yourself out of the game before you're 30.