US Open Leaderboard 2012: Contenders That Will Fold in the Face of Tiger Woods
June 16, 2012

Stuart Franklin/Getty Images
The first round of the US Open at Olympic Club in San Francisco ended with Tiger Woods in second place as he was three strokes off the blistering four-under par pace set by Michael Thompson. It should come as no surprise, however, that Thompson has fallen back and Woods has assumed the lead along with two other players.
Jim Furyk and David Toms are two quality golfers, but all eyes will be on Tiger as he eyes his 15th major victory in pursuit of Jack Nicklaus' record of 18. Woods has dealt with a lot over the past few years, but after winning The Memorial Tournament and playing extremely well in the opening rounds of the US Open, he has to be considered the favorite to win it all.
Here are three contenders who are currently in the hunt, but will ultimately fold this weekend as the pressure of hanging with Woods will weigh too heavily on their shoulders.
Graeme McDowell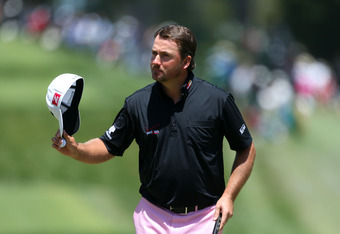 Andrew Redington/Getty Images
Graeme McDowell is no stranger to success at the US Open as he won the event two years ago, but the biggest knock on the Northern Irishman is his inconsistency. There are times when McDowell appears to be one of the best players in the world, but you never know how he'll play from one round to the next.
McDowell has grinded it out nicely thus far and is just two strokes behind Woods at one-over par, but the question is whether or not he can keep it up.
McDowell may be Woods' toughest competitor in terms of pure skill, but I'm not confident he can hold up over the long haul on the tough Olympic Club course. Due to its sheer length, it tends to lend itself to long hitters like Woods. McDowell is no slouch off the tee, but few would consider him elite in that regard.
If McDowell can hold it all together then he has a legitimate shot to win, but knowing that Tiger is playing as well as he is will likely affect him in a negative manner.
Michael Thompson
Many were shocked to see Michael Thompson, who is in just his second year on the PGA Tour, in the lead after 18 holes in the US Open. Thompson dominated the field as he shot a four-under 66 and held a three-stroke lead over the next closest competitor.
It didn't take long for Thompson to come back to Earth, however, as he shot a disappointing five-over 75 in the second round and is now two strokes behind Woods at one-over par rather than three shots ahead of him.
Thompson's descent down the leaderboard has already begun, and with the stakes getting higher, I wouldn't expect him to right the ship on Saturday and Sunday. Playing against Tiger is difficult for even the most battle-tested veterans in the sport and Thompson certainly isn't one of them.
He hasn't had many big moments in his PGA Tour career thus far, but he has a golden opportunity this weekend. Rather than hanging around, though, I'm expecting a complete implosion on his part.
David Toms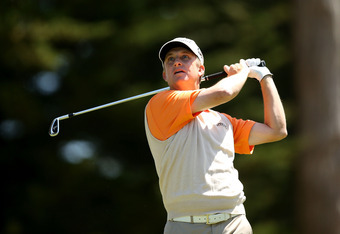 Ezra Shaw/Getty Images
At 45 years of age with a PGA Championship victory under his belt, David Toms seems like precisely the type of player that should be able to stare Woods down and remain in contention. I don't believe that Toms will be intimidated by any means, but I do think that he is playing an unsustainable brand of golf right now. Toms has been a very solid player for a long time, but it has been quite a while since he has been a true factor at a major.
Toms plays the type of mistake-free golf that will behoove him on such a tough course, but when it comes time to attack a hole and go for a birdie, I'm not sure he has the tools to do that like Tiger does.
I can see Toms hanging in there for a while, but his chances of upending Woods are far worse than a guy like Jim Furyk, who is a complete player that can do a little bit of everything. Toms doesn't have that killer instinct in my estimation, so he is going to ultimately fade down the stretch.
| | | |
| --- | --- | --- |
| Player | Score | Thru |
| T1. Tiger Woods | -1 | F |
| T1. David Toms  | -1  | F  |
| T1. Jim Furyk  | -1  | F  |
| T4. John Peterson  | +1  | F  |
| T4. Nicolas Colsaerts  | +1  | F  |
| T4. Graeme McDowell  | +1  | F  |
| T4. Michael Thompson  | +1 | F  |
| 8. Blake Adams  | +2  | F  |
| T9. Hunter Mahan  | +3  | F  |
| T9. Matt Kuchar  | +3  | F  |
Leaderboard via USOpen.com
Follow @MikeChiari on Twitter