Callous Course: Precision Is Priority at U.S. Open
June 16, 2012

Andrew Redington/Getty Images
Trudging through the 112th U.S. Open course Saturday, I was reminded of Stuart Scott's apt metaphor, it's "As cold as the other side of the pillow."
Except Olympic Club may be more of an arctic chill.
This course is callous in every sense of the word. It's cold, heartless and there's nothing forgiving about it.
For 18 holes, the world's best—who have a reputation for torching courses with their outrageously long drives and aggressive iron shots blazing with back-spin—are forced to play defense. As Masters champion Bubba Watson said prior to the event, "There's an 80 lurking out there," recognizing how susceptible players are to big numbers at Olympic.
Just ask Michael Thompson, the leader after day one, who carded two double bogeys and a triple bogey in his first five holes on Friday, leading to a five-over, 75.
This course is treacherous.
Standing still is a feat at Olympic because other than the tee box, finding a flat surface is about as easy as solving a Rubik's Cube.
The slope at Olympic is beyond severe. This course was built on a hill and the course designers took advantage of the dramatic gradient, leaving players impossibly hard golf shots with the ball often above and below their feet.
After the first two days, we've watched countless players drive their balls directly down the middle of the fairway, only to watch it ride a wave of steepness and settle below tall, chunky grass. From there, it's pretty much a matter of hacking the ball out and praying it goes in the direction you want.
Precision is priority at the U.S. Open.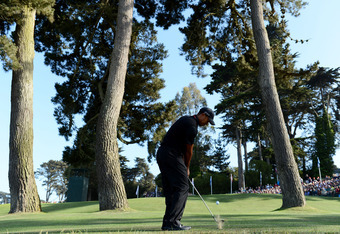 Stuart Franklin/Getty Images
That's in large part why Tiger Woods was tied for the lead after the first two rounds. He led the field in fairways hit (21 for 28) and was tied for third in greens in regulation (25 of 36); a category led by Jim Furyk who was tied with Woods atop the leaderboard after the second day.
Woods came off the course Friday and revealed to ESPN reporter Tom Rinaldi,
"Man, that was hard. That course is some kind of fast."
When arguably the greatest golfer of this generation, and perhaps ever, acknowledges that the course is difficult, you can trust him.
Each hole is its own grueling test, but the 18th was an astonishing, perplexing par-4 puzzle.
Although it's just 344 yards, players face a semi-blind tee shot to a fairway as narrow as a one-way driving lane. At the lowest point of the fairway, you're looking up a huge hill to a tiny green protected by sand traps all around it, except for just behind the green where there's five- to six-inch rough.
As if that didn't sound tough enough, there's a harsh prevailing wind that shoots from the top of the hill directly into the players' faces. Options are limited; either hit a shot that stays low enough to penetrate through the swirling wind, or take the risk and launch the ball way in the air, usually taking an extra club, or maybe even two.
Like many holes at Olympic, each shot feels like a gamble.
Walking through the throngs of people at Olympic, there's a cacophony of voices in pure shock. "I keep tripping!"
"Can you believe the slope here?"
"That hole is 520 yards, but it's a par-4!
Pure amazement and zero sympathy.
These back-breaking conditions are what you get in a U.S. Open venue when Rory McIlroy completely routs the field and embarrasses the tradition like he did last year at Congressional. The Open is meant to be golf's toughest test—then McIlroy shot 16-under-par in four days, breaking the record for lowest score in the major's history.
The USGA wasn't happy about it and as a result, trimmed this course down in all the right areas and let it grow in all the wrong ones. Now, we are facing one of the most demanding challenges in U.S. Open history, a truly diabolical setup.
The winner will be lucky to finish at under-par, and as David Toms said of this year's champ,
"Whoever wins this golf tournament is going to be a great champion, somebody that's probably won events before, that can handle the emotions and can handle the adversity in a US Open, and somebody with experience."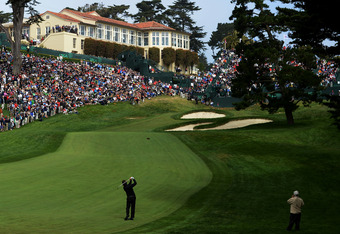 Harry How/Getty Images
In Olympic's exhausting conditions, it's not about thriving, it's about surviving.