Boston Celtics' Brandon Bass Respects the Game by Opting into Free Agency
June 16, 2012

Mike Ehrmann/Getty Images
You gotta love Brandon Bass, want him on your team, cheer heartily for his scrappy play and praise his quiet determination.
Upon arrival in Boston, his demeanor seemed more fitting than the high spirit and inconsistent contribution of Glen "Big Baby" Davis, in whose stead Bass joined this veteran unit.
Though a bit undersized for a power forward, Bass compensates with very quick lift, particularly on a fairly accurate mid-range jump shot.
While not always the best on-ball defender or smoothest of ball handlers, Brandon is an ideal versatile big man to have coming off your bench, just as Davis had done.
When Coach Doc Rivers needed him to take on the additional responsibilities of a starting role, Brandon Bass laid it all out there, most memorably in a 27-point Game 5 outburst against Philadelphia.
Brandon has known some ups and downs in his seven-year NBA career, from productive seasons in Orlando and Dallas to virtual anonymity during his first years with the transient Hornets.
Which is to say that he knows how the game is played—both on and off the court.
Bass and his agent are well aware that his value on the free-agent market is unlikely ever to be any higher, on the heels of a lengthy and productive playoff run with a posse of probable Hall of Famers.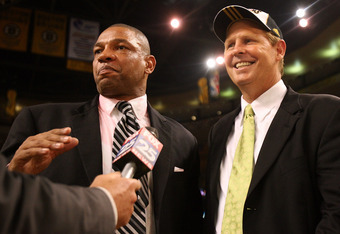 Elsa/Getty Images
Bass is but one of several Boston free agents to have expressed a desire to remain with the team.  But he'd be foolish to accept short money from a team with so many personnel questions and so much salary cap space.
A true team devotee—particularly of the shamrock wearin', shillelagh-totin' variety—clings to the ideal that it's an honor to compete for a championship in such anointed "threads," so money matters should not motivate a player's decision. 
After all, $3 or 4 million bucks is still a boatload of dough to most folk.
So why has the ever so lovable Mr. Bass opted to become a free agent, risking the wrath of Celtic Nation?
Because that's how this element of the game is played, and BB's competitive drive is a big part of why you gotta love him.
Brandon is a free agent because he earned that player option in his contract –and also because of the many who came before him and forged this current landscape.
These are men like Oscar Robertson, who sued the league four decades ago to eliminate the "reserve  clause" from the standard player's contract—the first legal step to a ballplayer's freedom of movement.  Oscar's broadcasting and coaching opportunities were sacrificed for this endeavor.  For all we know, it could have been the Big O, not the Zen Master, coaching Michael Jordan. 
Imagine that, if you can—study up, if you can't!
Initially, there were strings attached to a player's freedom.  In an attempt to maintain competitive balance (or was it more to deter player movement?), a free agent's former team received what was deemed equitable compensation from his new team's roster—a de-facto sign-and-trade imposed by the league.  ("The more things change," huh?)
Decades of often contentious labor negotiations have created the arena in which today's player executes this component of the game.  Constraints on a player's options are imposed now by the economic realities of the business, no longer by concerns over competitive equity.
Brandon Bass is in position to increase his 2012-13 income by 50 percent or more, not to mention the other eight figures of guaranteed money he may well command.  Why should he play for less, or for a team undergoing the uncertainty of transition?
For the Celtics, the biggest question to be addressed, one way or the other, is the long-term status of Rajon Rondo. 
If Rivers, GM Danny Ainge and ownership are unanimous in their desire for No. 9 to continue his rise in the Celtic record book straight to the rafters, then they need to max him out contractually, and get it done as soon as possible.
If not, or if Rondo himself is reluctant to commit for multiple years, then the orchestration of his exit needs to begin in earnest.  Given Rajon's volatility, LeBron-Melo-Deron-Dwight-type developments must be avoided at all costs.
For Bass to forfeit his option at this point would be like him taking a three-pointer through double coverage—left-handed.  Groan-inducing, and certainly not how the game was meant to be played.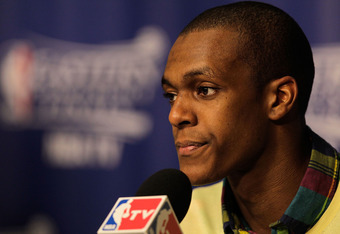 Mike Ehrmann/Getty Images
It would be wonderful to see Bass back in Celtic green, though he's never likely to thrill us again as he did that one night against the Sixers.
But even Brandon knows that Boston has other higher-priority personnel decisions—that's perhaps a less flattering aspect to the free-agent game.  On the other hand, he just may receive an offer too attractive to pass up and soon be sporting a different marketable color.
Either way, Celtic Hall of Famer Tom Heinsohn won't be mad at Brandon Bass.  As President of the fledgling NBA Players' Association back in the early 60's, Heinsohn led a near boycott of one All-Star Game over pension and health benefits for retired players.  When Tommy-Gun stopped playing, he turned over the mantle of union leadership to the aforementioned Mr. Robertson.
Coach Heinsohn well knows the trigonometry of the game.  He's written some of its history, too.
If you must, you can occasionally hate that game. But you gotta love Brandon Bass.