US Open 2012: Tiger Woods Will Live and Die by His Putter
June 17, 2012

Jeff Gross/Getty Images
Whether or not Tiger Woods knows it, no other golfer among the 72 left in the U.S. Open could have shot as deplorable of a round yesterday, five-over 75, and remained in the spotlight as a favorite to win.
I guess there's some perks to being the best golfer of your generation—if not in the history of the sport.
After brilliantly executing his game plan for two days with fairway splitting drives and terrific iron play, Woods grabbed a share of the 36-hole lead. Saturday was a different story, though, as Tiger squandered his advantage after a punishing blow at Olympic Club. 
The sense of control and rhythm that Woods emanated those first two days made his third round that much more uncharacteristic.
He missed seven fairways on the day, the previous total of his first 36 holes. Woods also totaled six bogeys in the round, but had only two in his first round and three in his second.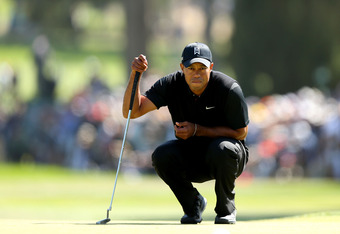 Ezra Shaw/Getty Images
The putter was truly his Achilles' heel. Woods continued to miss short putts from within the four to six foot range, be it for birdie or par. His stroke looked confident and he had great tempo, but he misread the break and misjudged the speed of Olympic's putting greens all day.
Tiger spoke to the media yesterday after his round, saying of his putting, 
"I struggled on the greens today, quite a bit.They looked quick, but they putted slow. But they were firmer than they were yesterday. So it was a tough feel for me to adjust to."
These blunders may have cost him his 15th major championship.
But Sunday, somehow, the mood around the media tent and on the grounds at Olympic has been that Woods will rebound. Leaders Graeme McDowell and Jim Furyk are currently at one under for the championship, leaving Woods five shots back, which on a course as punishing at Olympic is definitely within reach.  
Under par is a requirement for Woods Sunday. Anything less and another major championship will slip away, only furthering the four majors between himself and the Jack Nicklaus.
Olympic, however, will be an even more puzzling test on Sunday.
Unlike the first three days, the Bay Area fog has officially rolled in and it looks to have come with a vengeance. A sea of fog is blanketing the course causing the wind to be stronger and the air thicker.
Woods will need to forget that yesterday's round was the worst round he's ever shot in a major championship on Day 3, as well as when having a share of the lead.
Sunday at the U.S. Open—a setting that fuses brutal conditions with the pressure of having one golfer's name etched in the record books. This was once Woods' bread and butter. He already owns three U.S. Opens (2000, 2002, 2008) among his 14 majors.
The key to Woods pulling out a victory Sunday will be continuing his meticulous nature off the tee and into greens, while summoning as much touch and patience on the greens as he can muster.  To say Olympic's putting greens play hard and fast would be a monumental understatement. These players may as well be putting the ball on an ice rink.
But Woods is one of the best putters on speedy greens that golf has ever seen. This much is for sure—Woods will live and die by his putter today.