Boston Celtics: Roy Hibbert and 3 Potential Members of a New 'Big Three'
June 17, 2012

Mike Ehrmann/Getty Images
The Boston Celtics might lose Kevin Garnett and Ray Allen this offseason to free agency or retirement.
Garnett and Allen, along with Paul Pierce, formed Boston's "Big Three," a unit that won the NBA title in 2008.
If the Celtics do lose Garnett and Allen, they'll need to form a new "Big Three" in order to stay competitive.
With Rajon Rondo and Pierce still on the roster, they have two stars to help transition. But, the team will need to add another star to the group in order to make it back to the Eastern Conference finals in 2013.
Let's take a look at three players who, if signed by the Celtics, could form the third part of a terrific trio in Boston.
Roy Hibbert, C
Hibbert is the best center on the market this offseason after Dwight Howard decided to stay with the Orlando Magic for another year.
He's young, talented and only made $2.6 million this season. He deserves a bigger payday, and he'll certainly get it.
It might be hard to pry him from the Indiana Pacers, but if the Celtics can do it, they'd have a great center to build around.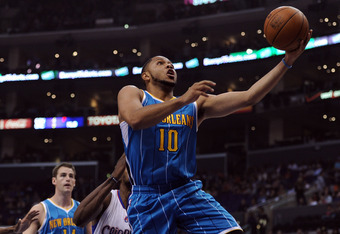 Harry How/Getty Images
Hibbert can score in the post, rebound and block shots. He'd be a perfect fit in Boston.
Eric Gordon, SG
Gordon has said that he's open to re-signing in New Orleans, but if he wants to contend for an NBA title, he might want to consider signing with the Celtics.
With Allen probably leaving this offseason, the Celtics could sign Gordon and then continue to have Avery Bradley come off the bench to back up Gordon and Rondo.
Gordon is the best young shooting guard in the NBA and, when healthy, is also a deadly three-point shooter.
He'll be entering the prime of his career and could help lead the Celtics to prosperity for years to come alongside Rondo.
Gerald Wallace, F
The Celtics still need a consistent big man to help out in the lane defensively, but Wallace is one of the best rebounding forwards in NBA history.
He averaged 6.7 rebounds per game this season, but has averaged as many as 10.1 rebounds per game in the past.
Signing Wallace would give the Celtics a lot of flexibility in their lineup. Wallace could start at power forward and also rotate in at small forward with Pierce. He could even play center if the Celtics needed to go with a small lineup for a short period of time.
He'd be somewhat expensive to sign, but he can score, rebound and do anything the Celtics would need him to do on the court.