Philadelphia Eagles: Why Andy Reid Won't Be Hearing the Boo Birds in 2012
June 18, 2012

Rob Carr/Getty Images
After a disappointing 2011 campaign, in which the Andy Reid's Philadelphia Eagles went from a team many believed to be a major Super Bowl contender, to an underwhelming, mediocre 8-8 squad, there is much room for improvement. The Eagles organization simply can't afford to miss the playoffs this upcoming season.
Fortunately for Philly fans, there is a lot to look forward to in 2012. The Eagles are definitely on the upswing, and there is no way that Andy Reid and the gang will be hearing boos this season. Everything appears to be falling into place, and they should have a great year. Here's why: 
DeSean Jackson No Longer Has Any Excuses
Last season, DeSean Jackson wanted a contract extension all year long and was clearly distracted by that issue on the field of play. Jackson at times appeared disinterested as if his head was elsewhere, particularly in a crucial late season loss to the Seattle Seahawks. Jackson didn't play to his full potential. According to ESPN he only hauled in 58 passes for 961 yards and a meager four touchdowns.
However, for the 2012 season, Jackson no longer has any reason to be distracted, and is poised to have a big season. Jackson's pouting was rewarded by the Eagles' organization with a five-year deal worth $51 million (per ESPN). Jackson got a contract that he probably didn't deserve, but it does do one thing; it gives him no excuses not to perform at a high level. 
If Jackson plays to his full potential, he'll be a tremendous downfield threat and will provide Eagles fans with a lot of thrills in 2012. He's shown how dangerous he can be, and he'll make some big plays this season.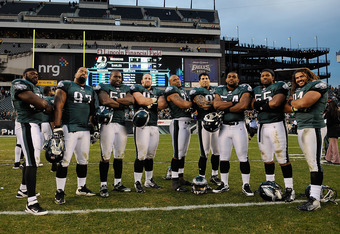 Patrick McDermott/Getty Images
The Defense Will Be One of The Best in the League
The Eagles front four was among the best in the NFL last year, registering the most quarterback sacks in the entire NFL (per NFL.com). Anchored by defensive end Trent Cole, the Eagles front four is clearly elite, and if they play the way they did last year they're in for another great season. Rookie first-rounder Fletcher Cox will also help to solidify the defensive line as the best in the league.   
The question marks on the defense are at the LB and DB positions. At LB, the addition of Pro Bowler DeMeco Ryans will surely help alleviate the problems the birds had last season. Ryans is a former Rookie of the Year and is a very solid player. Add in rookie Mychal Kendricks, and you have a linebacking corps that could be amongst the best in the NFC. 
On to the most important area for them to improve upon: the defensive backs. Last season, big free-agent addition Nnamdi Asomugha didn't perform nearly as well as most would've hoped. Asomugha and the other DB's never seemed to gel well together.
However, the lockout and lack of offseason team workouts really hurt them in this regard. With a full training camp this year, they should be firing on all cylinders and are primed to be an elite unit, with Asomugha and Dominique Rodgers-Cromartie at corner.
Michael Vick Will Return to His 2010 Form
Last season, Vick never seemed to be able to get into his groove, as he was bothered by injuries throughout the year, coupled with the lack of effort by No. 1 wideout DeSean Jackson. Vick needs to stay healthy in 2012 for this team to contend for a championship, and that's the bottom line.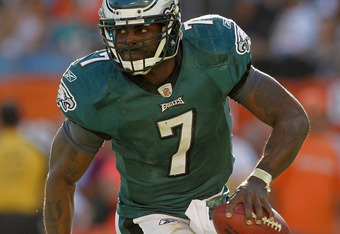 Mike Ehrmann/Getty Images
Fortunately for Eagles fans, Vick seems to finally realize how important his health is. He's said he's adjusting his offseason regimen, and that he will adjust his style of play due to his increasing age (per The Republic). If Vick does indeed stay healthy, there's no reason why, with a full offseason camp and happy players around him that he shouldn't flourish in 2012. 
Add LeSean McCoy into the mix, and Vick is primed to put up big numbers. McCoy's presence will help to keep defenses honest, opening up opportunities in the passing game. McCoy will also be a key to Vick's success, as he'll be used a lot in the screen game. 
It's already been said, but I can't emphasize it enough. Vick must stay healthy. If he does, watch out for this team in 2012. They have the talent to go all the way, and I believe they just might. 
Follow me on Twitter:@rlongo924